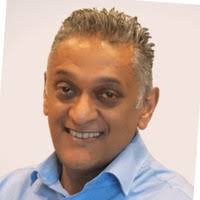 Jack Ismail, Partnership Director at Specsavers takes us through some of the insider knowledge of business ownership at Specsavers. 
'For many people the idea of owning and running a Specsavers joint venture partnership is a key achievement, even the pinnacle goal for their career – but there is so much more that they can do as part of the group network of stores. As there are more than 900 Specsavers stores in the UK and Ireland – and rising – partners of successful stores can go on to own many stores in their area, for example Chris Graham, who after running Runcorn expanded to run a group of three stores in Cheshire, or Josie Forte in the Plymouth group of three stores.
Specsavers partners can also shape their region's operations and feed into the strategic direction of the group. One way to do this is the role of a regional chair – where one partner represents each of the 40 regions in UK and Ireland joins regular meetings. These are dispensing partners, contact lens opticians and optometrists. As long as they are experienced and want to support their local partners and participate in constructive discussion. The forum is one of many regular, two-way communication opportunities to canvass partners' views and debate the detail of things like product launches, or it could be a proposal to test new ideas like our RemoteCare video triage and consultation service, or the Facebook Ask the Expert optometry group. The various stages of the rollout of OCT in every store was also a big discussion topic at every regional forum, as well as changes to the customer journey post-COVID. Everyone is passionate about doing the right thing for customers and getting it done quickly.
A next step up from being one of the 40 regional chairs is to become a Divisional chair – and then the Chair of Chairs. t's not top-down; Specsavers is a partnership. Initial ideas are shared and then it's often a very active forum that genuinely helps determine strategy and drive operations. Examples of subjects debated are marketing strategy from TV ads to sports sponsorship.
There are also two partner representatives on Specsavers UK and Ireland board – now we have Owen Blee, a dispensing partner in Dundrum Ireland and the optometrist partner Sarah Marshall who runs the Bicester store and launches many of our exciting new projects there. These board members also contribute to and take feedback from the partnership forum. Representing audiology, we have Lee Palmer too.
How has Specsavers grown its number of practices over the last five years?
Specsavers achieves growth through brand strength, efficiencies derived through continuously improving ways of working, including technology, and organic growth. While we added 5% new stores year on year in the five years up to 2019, we also expanded the size of many stores themselves. As the number of people visiting us continues to rise, it is important we ensure our stores are equipped to offer the best possible environment for our customers across our multi-category health care
services. This meant supporting hundreds of relocation or expansion projects across the country to add extra test rooms and to introduce or expand our Audiology offering. New technology such as OCT, online appointment booking, and customer flow management apps have all helped, while our incredibly talented store teams maintain a personalised service bespoke to each customer.
What are the company's expansion plans over the next five years?
At the moment in the deepest recession on record, we're looking to rebuild store operations in way that is safe for staff and patients alike – ensuring people feel cared for.
There absolutely will new Specsavers partners joining existing UK and Ireland stores, new locations and expansion in existing locations in the future. We may have modified our plans for this current year but fundamentally, we want to ensure that our existing stores have room to see everyone who wants to see us and that we have Specsavers stores in the communities that need us. So, we'll continue to grow in order to achieve that and we'll take a safe, measured approach to doing so.
How has expansion increased the number of practitioners in roles such as practice managers or in senior leadership roles?
With growth comes opportunities. Many practices have up to 100 staff – as team sizes grow, there are greater number of practice manager or lead optometrist roles. Longer opening hours for example mean many colleagues are doing four days a week rather than five days, and practice management is shared – with two or more managers on different working patterns. Joining Specsavers as a partner isn't the only option. There are hundreds and hundreds of partners who were employed colleagues first – in a myriad of roles – and who have progressed their career to business ownership within the group.
Specsavers partners have plenty of opportunity to engage in areas of the business of particular interest to them too – for example people management, frames, IT, new technology, clinical, recruitment, store design, labs and lenses. There are 12 leading partner forums specific to function, that meet four times a year to review strategy and agree best practice implementation. These are great opportunities for partners who might not be ready for the role of regional chair but do want their voice heard and are passionate about one particular area of the business.
Technology and flexible working means there is a much greater capacity for partners to have national support roles too in senior leadership. Bedford, St Neots and Dunstable partner Matt Stewart is Director of Product, Phil Gray is a partner in the Plymouth group of stores and also led the hugely successful rollout into Sainsbury's stores. Others are domiciliary business partners and optometry advancement professionals assisting stores with development
Tania Jenkinson was one such talented and ambitious dispensing optician who wanted to expand her geographical reach so is now a regional relationship manager for the group, supporting a whole region's worth of stores. There are plenty of training roles too: such as store partner Kirsteen Newman who leads the Dispensing Career Path training programme for Specsavers UK.
How many practitioners are in joint venture partnerships at Specsavers?
Around 1000 Joint Venture Partner (JVP) practitioners are professionally qualified and of these the majority are optometrists, whether in stores or in domiciliary roles. Around 200 JVPs are contact lens opticians or dispensing opticians.
What does the company look for when considering a practitioner for partnership?
As well as being clinically qualified and a reasonable level of experience, there's a definite "partnership" mindset that people who want to join us tend to have. We find that we have a set of shared values– being passionate about providing affordable eye care to all, as well as providing the highest levels of customer care and service. It's our 'customer first' attitude. A successful partner is one who can see things from the view of the whole business, beyond the doors of their store. They care for their team and customers, as well as being commercially practical – and, in this environment, we all need to respond well to change. There are often skills that can be honed in our Pathway partnership training programmes – such as making strategic decisions, influencing and the ability to have challenging conversations and provide honest feedback kindly and constructively.
How do experienced partners support new partners?
There will always be an experienced, high performing partner in a store where a new partner joins, so in addition to a full induction programme, they receive development for their day-to-day operational skills. After a few years they may wish to sign up to our mentor programme and under the guidance of an experienced partner achieve a career goal like independent prescribing or lecturing. Many mentees then go on to mentor themselves – volunteering to help develop other partners who may be in their region, or may have similar interests. ,
We also have a scheme and set of online forums that are specifically dedicated to the concept of 'Pay it forward'. When someone has made a change to their day-to-day operations or started a new initiative that they are excited about and have found it really works – we encourage them to share their experience and advice with other partners in the group to help everyone for the greater good. Or if someone has given them a great idea or tip, we ask that they pass it on. This peer to peer system really works well, it's a quintessential element of our partnership.
Many partners are also involved in our retail support and training teams, to guide other partners. There's a general unspoken commitment that this a partnership not just between two partners in one store but between every partner in the group – partners won'will ever turn away someone asking for advice or help.
What support is offered by Specsavers?
We are able to offer a very multilayered approach as a result of our robust, multi-functional support office to help every partner in every kind of store. We don't leave anyone behind either, and those who need support always receive it – from operational to clinical to emotional support and everything in between.
The partner support desk is the first point of call to field any and all questions, whether it's a straightforward 'how do I…?' or 'where can I find…?' to accidents and incidents as well as HR, Finance or IT queries.
There are also scheduled waypoints in the partnership journey too – such as the Pathway qualification for partner training, and a comprehensive induction that ensures our Partners know who their key contacts and support teams are, and have had a chance to meet and speak with each of them.'
Share, Print or Favourite