STARGADT DISEASE
by Ice Liu, Specsavers optometrist
22 year old male presented for a routine check. He reports having had poor vision in both eyes since the age of 11 and wears tinted spectacles to reduce glare.
GH: good
Meds: none
POH: bilateral reduced vision
FOH: none
Examination
Pupils: PERRLA
Colour vision: Failed both eyes (Ishihara 0/14 R&L)
Confrontation: Full both eyes
Unaided visions:
RE: 6/75 LE: 6/60
Refraction:
R: -1.50 / -0.75 x 125 VA 6/60
L: -1.00/-1.00 x 40 VA 6/60
Anterior segment ocular examination
Nothing abnormal detected.
Posterior segment ocular examination
Optic nerve head – healthy R&L
Macula – atrophy and drusen in both maculae
Hyperpigmentation R macula (flat, 0.3mm)
Diagnosis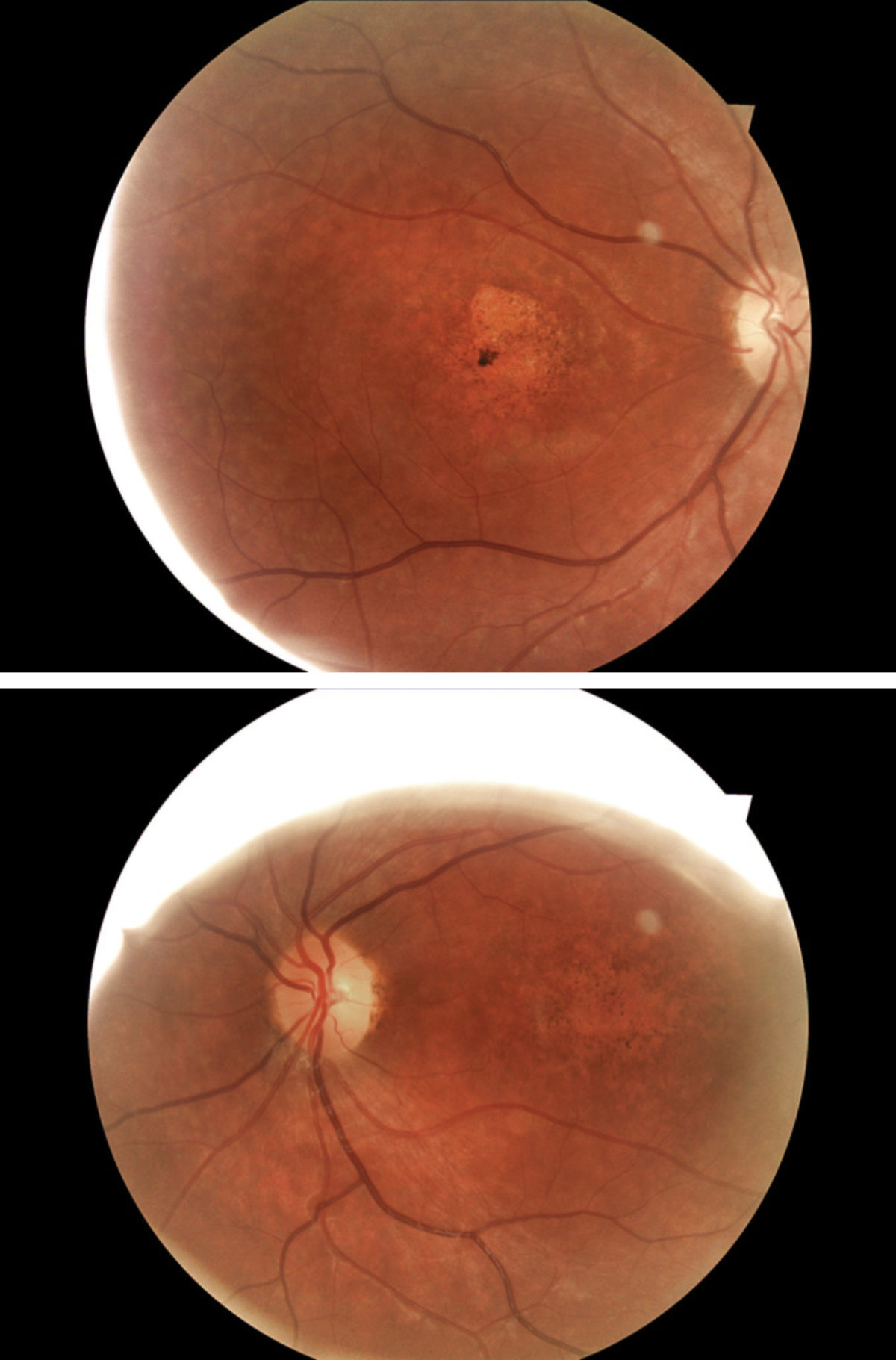 Differential diagnosis
Macular degeneration
Stargadt disease
Familial dominant drusen
Provisional diagnosis
Stargadt disease
Management
New RX provided with a grey tint (G2/3) to reduce glare when
outside. Also a pair for computer work with an MAR coating and a
G1 tint for computer use.
Discussion
Stargadt disease (sometimes referred to as juvenile macular dystrophy) is an autosomal recessive form of retinal dystrophy characterised by central visual loss associated with an atrophic central macular lesion. It typically presents in the first two decades of life, the rate of progression and severity can vary. Most affected individuals also have impaired colour vision and photophobia may be present. The clinical diagnosis is based on ophthalmological examinations consisting of visual acuity and visual field testing, ophthalmoscopy, electroretinography (ERG), fluorescein angiography (FA) and optical coherence tomography (OCT). There is no treatment available for Stargadt disease but gene replacement therapy is currently under development.
Share, Print or Favourite