OCCIPITAL LOBE MENINGIOMA
Reason for visit: routine eye examination, no other problems reported.
GH: u/a thyroid
Meds: thyroxine
POH: none
FOH: none
Examination
Pupils: PERRLA
Motility – full and smooth
Refraction:
R: -1/75 6/6
L: -1.00 / -0.25 x 96 6/6
Add: +1.50 n5

Ocular examination
External eye – normal as seen
RE C:D 0.5, inferior rim thinning
LE C:D 0.45
Blood vessels – normal
IOPs
RE: 16 mm Hg
LE: 15 mm Hg
Macula and peripheral retina – normal
Fields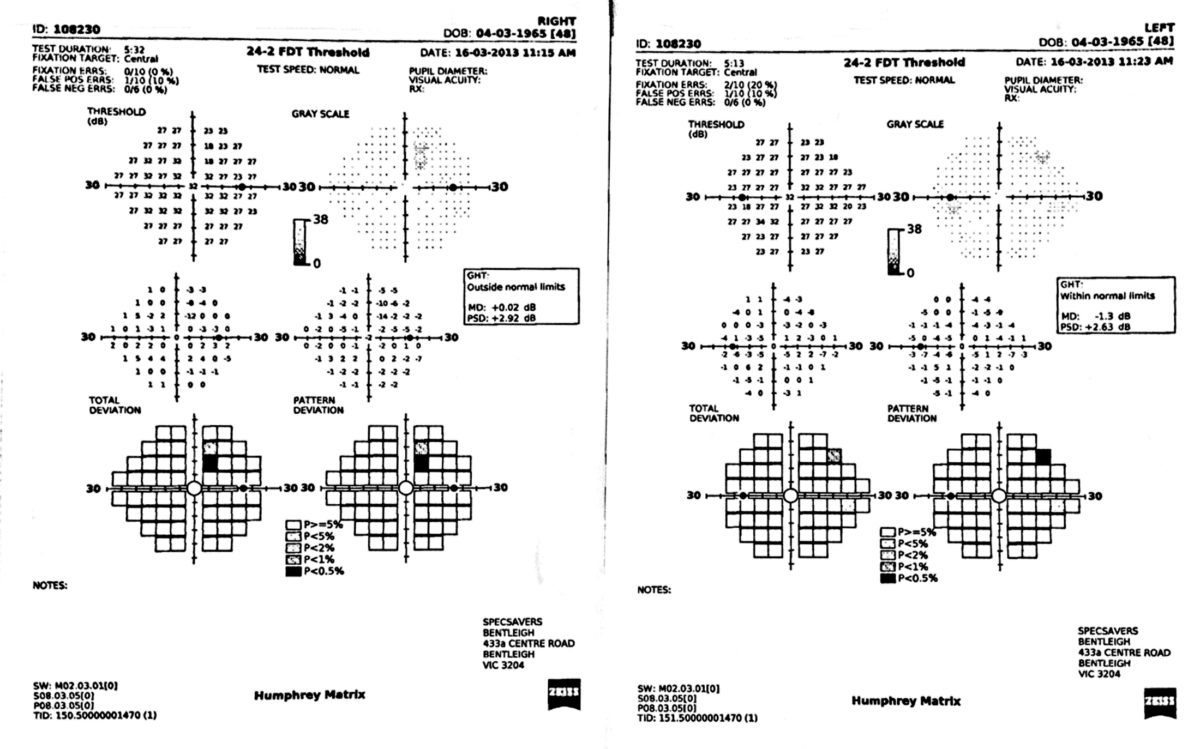 Management
As the anisocoria is assumed to be of recent onset and associated with partial ptosis, an urgent referral to an Ophthalmologist is required. It would be expected that a CT/MRI scan and a chest radiograph would be carried out
Ophthalmology management
Ophthalmologist's findings:
• Possible congruous right sided visual field defect
• IOPs 16mm Hg RE, 18 mm Hg LE
• Pachymetry 557 nm RE, 560 nm LE
• MRI requested due to congruity of defect
Diagnosis
Left occipital meningioma
Discussion
A meningioma is a tumour that arises from a layer of tissue (the meninges) that covers the brain and spine. Most are considered 'benign' because they are slow growing with low potential to spread.
Symptoms
The most common symptoms are headaches for weeks to months, weakness or paralysis, visual field reduction and speech problems. Specific symptoms depend upon the location of the tumour.
Treatment
There are three treatment options: observation, surgical removal, and radiation.
Prognosis
For tumours in favourable locations, up to 85% of meningiomas are curable with surgery. Location, the amount of the tumor left after surgery, and the skill of the neurosurgeon are the important elements in predicting a successful result.
Share, Print or Favourite