Meet Charlotte McGimpsey – Partner for Specsavers Home Visits – who is keen to provide a first class eye test service to housebound patients.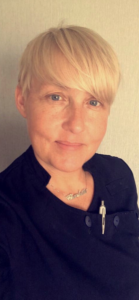 What was your background before joining Specsavers?
I started my optical career with Asda in 2000, joined Healthcall's domiciliary service in 2009 and then came to work for Specsavers in 2013. I never dreamt I could progress this far.
Launching our domiciliary optical service with Specsavers, our business has moved from strength to strength and is very successful within our catchment area. We're seeing growth and using every opportunity to provide a first class service to housebound patients.
In a nutshell, what do you do?
I lead the customer service and dispensing side of the business with the ultimate aim of providing the very best in optical domiciliary customer service. Working in collaboration with my optometrist  partner, I have the responsibility for the day to day running of the business, ensuring its long term growth and success. I use my dispensing and organisational skills to engender a culture of quality.
I like to deliver a great service with hands on approach, providing the organisation and direction required in a busy domiciliary environment.
What does your typical day look like?
There is no typical day in our roles, every day is different. That's why I like the role so much.
What makes you most proud of your time at Specsavers so far?
My proudest moment and most satisfying professional achievement for me was becoming a partner for Specsavers in 2013. I've never looked back. It's a busy role but it's one I thoroughly enjoy.
Driving our business in our selected area is demanding, there's always competition hot on our heels, regular meetings with care home managers, talking to residents in the community and making sure everyone hears about the amazing service we provide to people that are housebound.
What clinical advances have you seen lately?
In my honest opinion I think we make a real difference to someone's eye health at every visit we do. These people have mobility issues and so are housebound and rely on their eyes to have quality of life. Giving a person their vision back is rewarding and makes a real difference to their day to day existence. Referring patients with eye conditions and making sure they have every available resource, means they can receive exactly what they can should they be able to visit a store.
All our teams are fully qualified and trained, this is ongoing with the use of our online learning portal and our amazing support staff.
What is the most satisfying professional achievement for you?
I have developed massively from beginning my career as an optical assistant to becoming a director. I have learnt new skills like HR, PR, compliance and getting the best out of our teams.
What do you love about your job? What is a challenge?
I love making a difference to people's lives. It's that simple. My challenges are about leading a team, learning how to get the best out of them and help them stay as passionate about their roles as we are.
Describe the Specsavers culture in three words
Dedicated, driven and ambitious
What advice would you give someone looking to join Specsavers?
Grab the opportunity with both hands, enjoy the company and the support and the satisfaction that comes with being part of a leading brand.
Are you a qualified optometrist and interested in becoming a domiciliary partner?
Are you interested in studying optometry? 
Share, Print or Favourite