Dispensing optician Paresh Gohil, says he loves having the might of a big brand behind him but can still offer personalised care for the community.
He explains how being a locally-owned store has tangible benefits: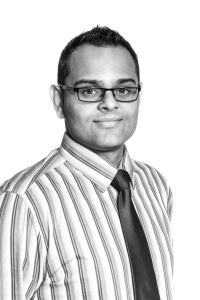 'Not many people are aware of this, but every Specsavers store is owned and managed by their team of directors,' explains dispensing optician and store director Paresh Gohil. 'It's a great business model, because it allows us the buying-power, marketing exposure and security of a big-name brand, but we can make our own decisions and offer more of a local, family-feel service to our customers.'
The store in Normanton is co-owned and managed by its joint venture partners, directors Raj and Paresh Gohil, who are local to Derbyshire themselves. This partnership scheme has allowed them to have ownership over all aspects of the running of the business, including ensuring that they are supporting the local economy and nurturing local talent through employment.
'We pride ourselves on being part of the local community and having a fantastic relationship with our customers,' continues Paresh. 'We know exactly what our customers' needs are and we put a huge amount of effort into catering to them. It's something that can only be achieved when you are a local yourself.'
Patients put first
'Our aim is to make sure that every customer leaves happy,' explains Paresh. 'Both with their experience in store and the care they received, and with the fit and feel of the specs they purchased.
'To ensure that we are doing this, we have carefully planned the customer journey in store, to ensure that it is as smooth and stress-free as possible. We put a huge amount of effort into training the team so that they take pride in what they do, which is reflected in their treatment of our customers.'
Getting feedback from the customers themselves is also a key part of this, to make sure we are understanding their needs and adapting our service if we're doing something wrong. The high levels of customer satisfaction we have from feedback is extremely encouraging, and it comes from the hard work of our team to give every customer a great experience.'
The team also take the time to ensure they are focusing on the needs of each individual that comes through the door. This includes a range of language options available for customers for whom English is not their mother tongue, including Urdu, Punjabi, Polish and Gujarati.
'We really embrace the fact that our community is multicultural, and we want to reflect that with the service we offer,' says Paresh. 'From the moment a customer enters the store, we have a responsibility to ensure we are giving them the best care possible, and this is one of the ways we can go above and beyond for our patients.'
Share, Print or Favourite