Jason Gillan, optometrist and director, tells Spectrum about his Specsavers store operations specific to Canterbury in Kent.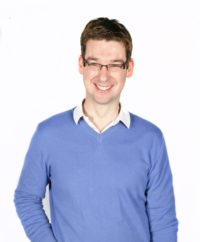 Our store is in the bustling centre of Canterbury, close to the Cathedral and in the main shopping area of Canterbury, which in itself is a beautiful historic market town.
What are your local customers like?
Our customers tend to be politely affluent – and are really varied, we see the full age range from pre-school to people in their 90s. It's great that after 15 years here we have a loyal client base too – who are all very friendly. It's a wide mix from young families to commuters to retirees.
How far do people typically travel to the store?
Our catchment area is as far as Faversham, Whitstable and the Kent coast and also people who are 'DFL', down from London and people who may commute to London too but live in Canterbury at the weekends.
What is the price of private eye examination in your store? £20.50
What is the ratio of NHS customers to private? As of August 2016 60% of customers were NHS customers.
What makes working in the eye care profession in your community a pleasure?
It's so good to have such a lovely team, and customers who are friendly so that we can have a good instore rapport. I like the wide range of customers who come through our doors and the variety of eye care needs and lifestyles.
What are your challenges?
Recruitment of professional staff is our biggest challenge, which is why we invest in training to 'grow our own' optoms with at least one new pre-reg optom every single year.
How has the eye care service you can provide been improved by the resources of the parent company?
We have really benefited from the commitment to excellence in the professional training provided, particularly in MECs and overall EOS training. As well as a store owner and director, I also enjoyed being part of a Professional Leadership Council with other senior clinicians who are tasked with guiding and developing thinking on professional issues within Specsavers.
What type of frames from your practice collections are most popular dispenses?
Premium frames for men like Gant have been particularly popular of late as well as the new Cath Kidston flowery frames for women.
Do you use locums?
Yes we have relied heavily on locums this year, including two who I trained myself when they were pre-reg. As we have five test rooms, we can use up to five locums for different days.
Is any training planned for the remainder of the year?
Our next professional training will focus on IOP refinement for EOS; digital dispensing with our Precision Care tablets, and improving customer service standards.
What enhanced service contracts are secured locally and which further contracts will be important to secure in the near future?
There is an IOP refinement scheme in place and we are also part of a cataract referral scheme as well as seeing patients post-op. We'd like be involved in setting up a MECs contract for east Kent to match the west Kent service.
Share, Print or Favourite