Behind the scenes with Craig Bell, director of Specsavers in Berwick, Northumberland.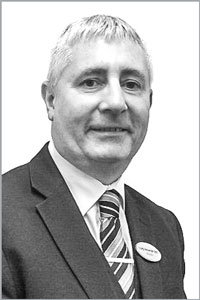 How would you describe your location?
We're on Marygate, one of the main thoroughfares in Berwick upon Tweed – a beautiful coastal town in north Northumberland on the banks of the river Tweed. It's 56 miles from Edinburgh and 60 miles north of Newcastle. So north, some people might think we are near the Artic circle!
We have 17 staff in all here: two dispensing opticians, Vicky and myself (I also am a contact lens optician) and two optometrists: Nick Dawson my fellow director and Maddie. Daniel is with us, who is starting his second year Dispensing Optician course and Holly who will be starting her second year Hearing Aid audiologist course in September.
We have 3 testrooms currently and plan a fourth next year for the growing audiology volume.
What are you local customers like?
Our customers tend to be relaxed, with a slower pace of life and they are appreciative of our efforts. Some of our customers travel over 50 miles for an appointment as we cater for a very rural community.
I used to live a few miles away from the store, and my fellow director lives 10 minutes away, so I now live in a small village overlooking the North Sea.
What is the price of private eye examination in your store? We're currently running a free eye test offer for all but due to being less than four miles from the Scottish border and the fact that practically 50% of our patients are from Scotland where the eye examination is fully funded by the Government can present difficulties – as patients sometimes do not understand that in England not everyone gets a funded eye examination.
What is the ratio of NHS customers to private? About 50-50
What makes working in the eye care profession in your community a pleasure?
I love the people and the countryside here. It's such a beautiful drive to work, passing Bamburgh castle, Lindisfarne Island and over the Tweed bridge. We are a community optician where a good reputation is vital. We do have the luxury of getting to spend a lot of time with our patients which helps our reputation for impeccable service.
What are your challenges specific to your location?
Our location also means that we do find it hard to get locum cover if we need it, and also, the nearest ophthalmology department being over 60 miles away means are often used as an extension to an accident and emergency department.
How has the eye care service you can provide been improved by the resources of the parent company?
Being a partner in the Specsavers network means we have access to some of the best clinical and retail expertise in the country. We have training sessions every Monday, with everyone taking their turn to conduct a training session so everyone is involved, this keeps it relevant and fresh.
What type of frames are most popular dispenses?
We cater for all ages, but the Twiggy for Aurora range has been popular lately with the ladies aged 50 plus.
What enhanced service contracts are secured locally and which further contracts will be important to secure in the near future?
Berwick does not have a local NHS scheme for red eye (and other minor eye conditions) but have schemes in place for diabetic retinopathy, glaucoma and children's eye care. We have been conducting diabetic screening for both sides of the border, previously it was only two days a month that the screening service came up from Newcastle, now we can offer the service 6 days a week, including early mornings, after work and Saturdays.
Share, Print or Favourite