Clinical assistants in optometry settings have started an 18-month study journey this month, on a new Enhanced Optical Services (EOS) Diploma course. This new distance learning programme leads to a BTEC Level 2 Diploma in Healthcare Science approved by the Royal College of Ophthalmologists.
The qualification will develop the skills of assistants who perform delegated procedures in ophthalmological or optometric services from high street practices with EOS contracts to eye health clinics and surgical centres.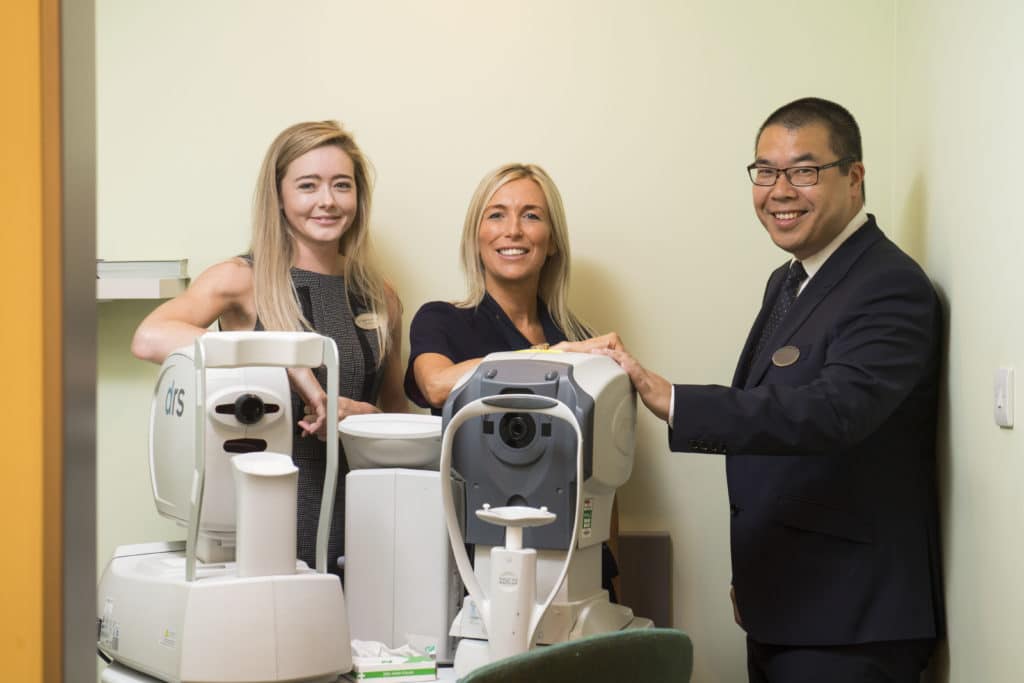 Clinical assistant and EOS diploma student Sam Meikle (centre) with her course supervisor, optometrist Lily Traynor (left) and Sale store partner Kevin Liu (right).
Optical assistant Sam Meikle (pictured), who has worked in Specsavers in Sale for 19 years, is one of the first cohort of students. She said: 'I was very interested in starting something new within my role and gaining a qualification while doing so. I feel that having this qualification and knowledge in place will benefit both myself and the store, ensuring patients get the best care as we progress further with EOS.'
Kevin Liu, optometrist director in Sam's practice said: 'As a professional team we pride ourselves on clinical excellence and believe we are in a privileged position to take care of the eye health needs of our community. We embrace any advances in EOS we can be involved in and believe this will be increasingly important as the industry evolves.
'As a store, we are completely invested in people development and feel this qualification is the natural step for our people wanting to develop themselves and their careers. Sam has already shown great enthusiasm for the material she is studying. The qualification will enable her to offer better support to the professional team when dealing with the wider eye health needs of our patients.'
The course has been devised by Specsaver's professional training and development team, although the scope, specification and duration of the qualification is set by the NHS medical professional bodies.
Course overview
The BTEC Level 2 Diploma in Healthcare Science is a national qualification that has been approved by the Royal College of Ophthalmologists. The qualification shows the student has met the nationally recognised standard for clinical support of eyecare services.
This programme will help the student deliver high-quality results and person-centred care in the delegated tasks they perform. It will give them a deeper understanding of the following:
Anatomy and physiology
Managing customers with complex needs
Managing risk
NHS culture and practice
This programme will equip the student to work effectively as part of a multidisciplinary team, delivering the rapidly expanding community eyecare pathways.
Supervision
As the course is a work-based programme, the teaching for practical tasks is done in the workplace. The student combines their reflective practice skills (taught in the course) with practical instruction and guidance from practitioners in the store.
All students will have a designated qualified optometrist supervisor to  guide them in performance, coaching and formal observations of delegated optometric functions.  The principal supervisor role can be taken by a dispensing optician.
Content summary
Healthcare science services
Employee rights, responsibilities and personal development
Investigating, treating and managing human disease
Working in partnership
Working safely in the healthcare science environment
The NHS constitution
Visual acuity, refractive correction, ophthalmic and contact lenses, adaptations of techniques for people with a range of needs, technology and instruments used by the clinical assistant
Understanding disability
Monitor and maintain the environment, prepare individuals for healthcare activities and support individuals undergoing healthcare activities
Managing conflict
Contributing to the effectiveness of multidisciplinary teams
See also:
Professional development articles
Share, Print or Favourite