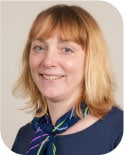 I'm feeling the Christmas spirit today – even though Christmas 2020 is looking like it will be different to all the others past. There's a feeling of buoyancy around too, or at worst hope – staff and patients I speak to are hoping our various regional restrictions won't be extended or worsen – and we can have a good Christmas, with some family (if not all) and some joy. As no one can predict what will happen, I think the most important thing is for each of us to do what we can to stem the spread of the virus, so that we can start to return to more predictable living and working patterns.
Planning is something which my colleagues and I have always relied on, planning the day, the week, the month, the business year ahead. Although I have always understood this need to plan, I have never been one for having strict, inflexible plans as I have always felt that we can never totally control everything.
I remember a Christmas week a few years ago when our appointments had dwindled to the emergency or essential bookings of that time of year and an elderly gentleman (let's call him Fred) was brought in by his son who had concerns that his macular degeneration was worsening. Fred had had many hospital tests due to him apparently losing his appetite and significant weight loss. He did have quite extensive geographic atrophy in both eyes and reduced vision as a result, but he understood his diagnosis and had adaptations around the home to help. I sympathised about his other health issues saying that I hoped they would find a cause for his weight loss and the correct treatment would be forthcoming. At this point he became guarded and sensing there was more, I questioned him gently. Fred confided that his food often seemed to have strange worms moving on them, which he knew shouldn't really be there, which clearly made him lose his appetite. He hadn't wanted to say anything for fear of being diagnosed with dementia. I was able to then explain Charles Bonnet syndrome to him and discuss it further with his son. His relief was obvious as he thanked me for giving him the best Christmas present ever and making his Christmas wishes come true. The recent College podcast made me think of Fred again. These are the moments, with or without a pandemic, that I find my job the most rewarding. At the start of that day, I didn't know I was going to have such a big impact on someone's life – there was no plan to do this, just a name in the diary.
Often, we can only control our response to situations and this year has certainly proved that. I think if we look back to when we were celebrating Christmas 2019 with our staff, we might not have wanted to get up the next day if someone had told us what 2020 had in store. However, when it happened, we all stood together and dealt with it in the best way we could, with a very steep learning curve for the new ways of working. I think in some cases we are often better not knowing what is in store for us.
Traditionally we found December to be quiet, but in more recent years the December "lull" happens later and later. In March when there was talk of a lockdown looming, we watched our appointment bookings disappear almost overnight as patients cancelled existing appointments and didn't book in. In lockdown 2.0 our appointment book has remained solidly booked. Clearly, there's a reassurance that we are now more competent and ready with infection control and managing the flow of our patients in practice, and we have supplies of PPE. But the patients themselves are keen to come in. In fact, some have refused the offer of remote consultations and insisted on attending in person. I think December will have two camps of people – some will continue being buoyant with patients feeling they need to get their spectacles or contact lenses sorted while they can. Some may want to spend all of the time allowed with their friends and families. Certainly, the emergencies won't wait and it's good that we can continue to support our local healthcare system in this critical time. The numbers of patients sent to us by both GPs and the hospital have certainly increased throughout Covid and we can hope that this reinforces the message that optometrists do more than issue prescriptions for spectacles.
Now my Christmas wish is more immediate – for the public to learn how to wear face masks correctly – over both the mouth and nose!
Season's greetings to you all.
Judy Lea is an optometrist and director of Specsavers in Longton.
More like this...
Sign up to Spectrum for free CET and clinical updates.
REGISTER
Share, Print or Favourite