Domiciliary optometrists not only help to preserve their customers' sight. They also preserve their dignity and autonomy.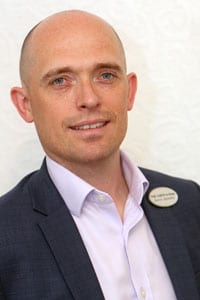 Like so many people who work in domiciliary, I love my job. I've worked as a Specsavers domiciliary partner for the past four and a half years and it's something I see myself doing for the rest of my career.
It's the feeling of fulfilment you get when you help people who otherwise wouldn't have access to the service. It's the patients that we see, and the knowledge that our service is greatly valued by them. Also, the amount of pathology that we see, and the number of people with real visual impairment, is quite high. It pushes your clinical skills to the limit.
Some of our customers haven't left the house in years, and often we're the only people they'll see that day, so our visit makes a massive difference.
I remember a customer in his late 90s who told us he'd have to cancel our visit because he didn't think he could get out of bed and come downstairs. We explained that we were happy to visit him in bed if that was more comfortable for him. He was delighted. It had been at least five years since his last eye test, his prescription had changed and his glasses were poorly-fitting and in terrible condition. He spent most of his time watching TV and reading, so a new pair of glasses would have made a big difference to his life.
It's not only about preserving sight – it's about dignity and independence. Our customers appreciate being able to organise their own eye test in their own home just by picking up the phone, as they often don't want to rely on family to take them to a store.
This week we saw a lady in her 80s who hadn't had an eye test since she went into store three years ago, despite getting a lot more short-sighted due to a little bit of cataract. The reason she hadn't been back to the store was due to her severe arthritis, which caused significant mobility issues. When we saw her in her home, she didn't even have to get out of her chair. She said, 'That's a lot easier than I thought it would be', which is something our customers say all the time. A new pair of specs were able to improve her vision for watching TV, which was what she did all day.
Some people we see are quite tech-savvy and use technology to remain independent, despite being housebound. I remember a lady in her 70s who was using her computer more and more, shopping online and looking at photos from her family, who lived abroad. But as she wore bifocals, neither the distance nor near prescription corrected her vision appropriately for the workstation. Giving her a pair of intermediate glasses to work with the computer screen meant she was able to see perfectly.
It's never just a case of going in and doing an eye test. You get more time with your customers than you would in store, so it's a bit more relaxed, and they feel they've been really looked after. You look about the room, see the pictures on the wall and say, 'Are these the grandkids?' Sometimes all they want is someone to have that conversation with.
For a resident in a care home, being able to choose their own familiar optometrist can give them a bit of autonomy at a time when they may feel many other decisions are being taken out of their hands. I remember one lady in her 80s who started off coming into store, then we visited her at home for a couple of years. When she went into a care home, we got a phone call asking us to visit her there for her routine eye test. She told us, 'I wouldn't use anyone else.'
Most people take their sight for granted, and think of an eye test as a simple, routine task. That's not the case for our customers. When you visit someone in a care home, who lost their specs when they went in, and has a very high prescription, you appreciate what a vital service you're providing. Every day I leave work feeling I've made a difference.
Hugh Loughran is a Specsavers domiciliary optometrist and partner servicing the north east of England.
Share, Print or Favourite