Following the success of the CET programme at 100% Optical, the Specsavers stand at Optrafair will again be the focus for a world-class programme of CET lectures, peer discussions and quizzes. The programme will equip delegates to meet the challenges and opportunities of practice in an exciting and rapidly changing profession.
The sessions are interactive to make the day engaging and to help with retention and application of learning directly to practice.
Most places are fully booked but feel free to turn up on the day.
Download the PDF programme: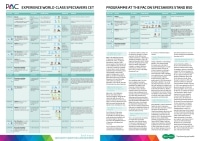 Time: 10.00-10.30
Quiz: 1. Are your standards high enough? (C-50466)
1 non-interactive point for OO, DO
Developed by: Dr Nigel Best
Summary: Scenarios relating to standards of practice
Quiz: 2. Image interpretation in contact lens complications (C-55539)
1 non-interactive point for OO, CLO
Developed by: Dr Nigel Best
Summary: Image interpretation of contact lens-associated conditions
Time: 10.30-11.30
Lecture: Modern eye care delivery (C-54907)
FULLY BOOKED
Presenters: Jeremy Diamond, Paul Morris and introduced by Doug Perkins.
Summary: This lecture gives an overview of practice in the UK currently for Enhanced Services and gives an insight into the different models of services that are provided by optometrists. There is a review of the challenges facing the NHS and of the different types of services that are being offered to patients in ophthalmology, often in tandem with optometrists, as traditional health care models evolve and modernise
Time: 11.45-12.45
Peer discussion: Diagnosis and management challenges – sight-threatening conditions (C-53561)
3 interactive peer review points for OO, TO
Presenter: Paul Morris
Summary: A series of peer discussion cases which explore issues relating to investigation and management/referral of three sight-threatening conditions
Time: 13.00-14.00
Lecture: Modern eye care delivery (C-54907)
FULLY BOOKED
Presenters: Jeremy Diamond, Paul Morris and introduced by Doug Perkins.
Summary: This lecture gives an overview of practice in the UK currently for Enhanced Services and gives an insight into the different models of services that are provided by optometrists. There is a review of the challenges facing the NHS and of the different types of services that are being offered to patients in ophthalmology, often in tandem with optometrists, as traditional health care models evolve and modernise
Time: 14.15-15.15
Peer discussion: Visual fields interpretation and clinical decision making in suspect glaucoma
FULLY BOOKED
Presenter: Adam Wannell
Summary: This session will develop delegates' knowledge and understanding of the differential diagnosis and appropriate management of some less common types of glaucoma that may be encountered in high street optometric practice
Time: 15.30-16.30
Lecture: The pre-operative cataract assessment and referral (C-53321)
1 interactive point for OO, DO
Presenter: Rachel Thomas
Summary: This lecture will explore the key aspects of clinical and communication skills which contribute to effective participation in a cataract referral enhanced services scheme
Time: 16.45-17.45
Discussion workshop: Image interpretation for decision-making in AMD cases (C-53330)
3 interactive points for OO, TO
Presenter: Mike Horler
Summary: Enhanced services schemes expand across the UK, with the aim of providing cost-effective and consistent high quality of care to patients. Using retinal images from OCT and other sources this session will explore through discussion, differential diagnosis and management of patients with wet AMD, dry AMD and suspect wet AMD
Time: 10.00-10.30
Quiz: 1. Are your standards high enough? (C-50466)
1 non-interactive point for OO, DO
Developed by: Dr Nigel Best
Summary: Scenarios relating to standards of practice
Time: 10.30-11.30
Peer discussion: Red eye cases (C-54283)
FULLY BOOKED
Presenter: Adam Wannell
Summary: A series of peer discussion cases which explore issues relating to care of patients with red eye presenting to community practice
Time: 11.45-12.45
Lecture: Modern eye care delivery (C-54907)
FULLY BOOKED
Presenter: Paul Morris
Summary: This lecture gives an overview of practice in the UK currently for Enhanced Services and gives an insight into the different models of services that are provided by optometrists. There is a review of the challenges facing the NHS and of the different types of services that are being offered to patients in ophthalmology, often in tandem with optometrists, as traditional health care models evolve and modernise
Time: 13.00-14.00
Lecture: Assessment and management options for keratoconic patients (C-54909)
FULLY BOOKED
Presenter: Satvinder Singh Soomal
Summary: The lecture reminds eye care practitioners of the signs and symptoms of keratoconus, how it is graded and how it can progress. It then discusses referral and management options with particular reference to corneal collagen cross linking, how patient suitability is assessed, the procedure itself and any complications
Time: 14.15-15.15
Keynote presentation – Optrafair Business Theatre: The changing face of high street optometry – one year on (C-54938)
1 interactive point for OO, DO
Presenter: Doug Perkins
Summary: Specsavers co-founder Doug Perkins will discuss the impact of advancing technology on the scope of practice, changes to collaborative pathways with the expansion of enhanced services and his vision of what needs to happen next to safeguard optometry and transform eye health.
Booking at Optrafair website
Time: 15.30-16.30
Peer discussion: Visual fields interpretation and clinical decision making in suspect glaucoma
3 interactive points for OO, TO
Presenter: Adam Wannell
Summary: This session will develop delegates' knowledge and understanding of the differential diagnosis and appropriate management of some less common types of glaucoma that may be encountered in high street optometric practice
Time: 16.45-17.45
Discussion workshop: Image interpretation for decision-making in AMD cases (C-53330)
3 interactive points for OO, TO
Presenter: Mike Horler
Summary: Enhanced services schemes expand across the UK, with the aim of providing cost-effective and consistent high quality of care to patients. Using retinal images from OCT and other sources this session will explore through discussion, differential diagnosis and management of patients with wet AMD, dry AMD and suspect wet AMD
Time: 10.00-10.30
Quiz: 1. Are your standards high enough? (C-50466)
1 non-interactive point for OO, DO, CLO
Developed by: Dr Nigel Best
Summary: Scenarios relating to standards of practice
Quiz: 2. Image interpretation in contact lens complications (C-55539)
1 non-interactive point for OO, CLO
Developed by: Dr Nigel Best
Summary: Image interpretation of contact lens-associated conditions
Time: 10.30-11.30
Peer discussion: Effective eyecare for cataract patients – before and after surgery (C-55285)
3 interactive peer discussion points for OO, DO
Developed by: Ross Campbell
Facilitated by: Paul Morris
Summary: A series of peer discussion cases which explore issues relating to investigation of cataract and complications related to cataract, decision-making, patient management and interprofessional and patient communication
Time: 11.45-12.45
Lecture: Forgotten red eye (C-51637)
1 interactive point for OO, DO
Developed by: Paul Morris
Summary: This lecture will cover a selection of less prevalent differential diagnoses of red eye and ocular discomfort. It will explore the obligations of the optometric practice and practitioners in the management, examination, communication and record keeping for patients presenting as an emergency or as part of minor eye condition schemes
Time: 13.00-14.00
Lecture: Modern eye care delivery (C-54907)
1 interactive point for OO, DO
Presenter: Paul Morris
Summary: This lecture gives an overview of practice in the UK currently for Enhanced Services and gives an insight into the different models of services that are provided by optometrists. There is a review of the challenges facing the NHS and of the different types of services that are being offered to patients in ophthalmology, often in tandem with optometrists, as traditional health care models evolve and modernise
Time: 14.15-15.15
Discussion workshop: Exploring the standards (C-55026)
3 interactive points for OO, DO
Presenter: Paul Morris
Summary: You are invited to consider four scenarios, discuss with a peer a series of questions about application of the GOC Standards of Practice to these scenarios and reflect on whether your management complies with the GOC's Standards and where you may need to make changes
About the presenters
Optrafair2017 Stand B50

Share, Print or Favourite