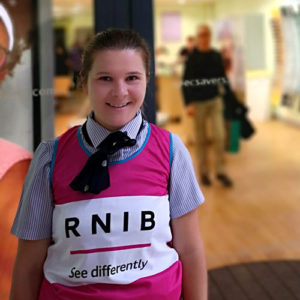 A dispensing optician from Grantham quite literally went the extra mile for charity when she clocked up an incredible 120km (nearly 75 miles) in a 24-hour endurance race.
Anda Veita, 34, completed the ultramarathon in aid of sight loss charity RNIB, to kick-start her store's fundraising during National Eye Health Week (24-30 September).
The endurance race – Equinox24 – was held last weekend (22-23 September) at Belvoir Castle, Leicestershire. The event started at noon on Saturday and finished 24 hours later, with participants running through the night by torchlight. The aim was to complete as many 10km laps of the castle as possible, although runners could take breaks whenever they wanted.
Anda completed 12 laps, clocking up 120km in total. Back at work the following morning, she says: 'I'm very chuffed. I have a couple of blisters and the stairs are a challenge, but my sense of achievement outweighs any physical pain.
'I only got the place two weeks beforehand, so I did very little proper training. I run anyway – usually 5km three times a week – but I don't think there's any proper preparation you can do for an event like this. Your legs give up early. It's all in the head.'
Anda's toughest moment came 60km in when she couldn't stop shivering and her husband, Nauris, persuaded her to get some sleep. 'The hard bit was accepting that this might be it,' she says. 'I thought that if I lay down I'd sleep for hours. In fact, I woke up after an hour and a half.'
This is Anda's third Equinox24, and she achieved a personal best (she completed 11 laps last year and 10 laps in 2016). But it's the atmosphere, as much as the challenge, that keeps her coming back, she says. 'It's quite a small event – so it has a family feeling. The race organiser even remembered my name. People you've never met before feed you sweets and cheer you on.'
Anda's husband Nauris and their two sons, Gus, 9, and Henry, 6, camped at the site over the weekend and were, she says, an incredible support. 'Nauris came in sight of the course every lap to take a picture or give me a hug. The kids cheered me on and give me high-fives, and all four of us ran across the finish line together.'
Anda, who has worked for Specsavers for 11 years, says that the RNIB is a charity close to her heart. 'I see people who are losing sight on a regular basis,' she says. 'The most common is age-related vision loss, and I've seen a couple of children with nystagmus. I think RNIB's work is outstanding. The more qualified and experienced you become, the more you understand its importance.'
Unsurprisingly, Anda is already planning her next challenges. She says: 'Next month I'm donating my hair to the Little Princess Trust, a charity that supplies wigs to children who've lost their hair after cancer treatment. I'm also doing a 26 mile run with a couple of colleagues in aid of breast cancer charities.'
For this ultramarathon veteran, that should seem like a walk in the park.
Other National Eye Health Week news…
Share, Print or Favourite