Taking a career break isn't unusual. Around 550,000 professional women in the UK are on extended career breaks for caring reasons, according to 2016 research [1]. Of those, 76% want to return to work at some point.
But returning isn't always so easy. After being out of the workplace for years, confidence may be low. In fact, according to a 2013 study [2], two-thirds of respondents said they felt drained of self-belief at the idea of returning to work after time away starting a family. Fears over not being accepted or taken seriously in their industry were prominent. Lack of flexibility was also cited as a major block to getting back on the career ladder.
Sonal Kantari, an optometrist at Specsavers' Wembley store, returned to work in October after a 10-year career break to raise her two children, now aged 16 and 11. She says: 'I did worry about being up-to-date, whether there might have been major changes and whether I would have to do courses.
'I also worried that I might not be able to find a job after 10 years away – after all, there are lots of optometrists coming out of university.
'In fact, I got the first job I went for. I was happy that I got somewhere local and also to be back at Specsavers. It was the last place I worked before my career break and I was happy there and knew their systems. There have been quite a lot of advances in 10 years but it was still a bit familiar.'
Transitional training
Happily, thanks to lots of mentoring and a structured training programme, Sonal's confidence quickly returned. She says: 'Initially I had a day in-store where I met everyone and saw how everything worked. I talked to some of my fellow optometrists, who were really helpful, and had clinical discussions about some of the cases.'
Her colleagues also helped to bring her up-to-date where necessary. She says: 'Every day I learned something, for example my colleagues would tell me about what's changed in regard to contact lenses, with varifocals being introduced. Fortunately I was already aware of many of the changes as I'd gone to conferences and kept up with my CET points during my time at home. There are still courses to do, with lots of free Specsavers clinical training and I am grateful that I can do them within work hours.
'Everyone has been really helpful, which has helped me deal with my patients easily and have more confidence.'
Although some skills may need refreshing, Sonal honed her people skills in her time away. She says: 'I probably have more compassion and soft skills because of my life experience, especially with children. The patients look up to me more now as I understand them more and I feel I can advise them better.'
Three days a week
Sonal is currently working three full days a week, allowing her to spend time with her youngest child, who has just started secondary school. She hopes to work more days in a few years' time.
She says it's refreshing to be back at work. 'It's nice to be in a different environment. I'm using my degree helping patients, who seem happy with my eye tests. It's nice when they say they can see better and they're happy. I missed the testing while I was away and dealing with people one-to-one.'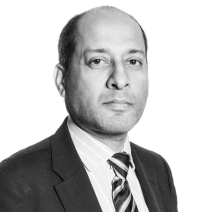 Rakesh Kapoor, ophthalmic director at the Wembley store, is keen to encourage people wanting to return to the profession after an extended break. He says: 'We made sure that Sonal had flexibility in terms of her clinic times, and lots of mentoring and support from other optometrists in her return to work. We also helped her to refresh her skills – and, most importantly, restore her confidence – with a structured training programme. Sonal says she is very grateful for the support she's had so far, and we're proud that she is really enjoying her new role. Despite having taken quite a long career break, she's settled back into optometry straight away and is a great addition to the team.'
If you're interested in returning to optometry after a career break, visit jobs.specsavers.co.uk
[1] Research published in 2016 by PwC in conjunction with Women Returners and 30% Club
[2] 2013 study by AAT (Association of Accounting Technicians)

Share, Print or Favourite