The first third-year students from the Masters of Optometry course at the University of Hertfordshire are currently starting their pre-registration (pre-reg) placements.
Nearly three-quarters – 29 out of the 40 students have found placements in local Specsavers practices. The four-year masters course, which began enrolling students in September 2015 is the first optometry degree to collaborate from the College of Optometrists. This allows the university to integrate the College's' scheme for registration within the programme, with the pre-reg placement running for a calendar year across the third and fourth academic years.
This has inspired me to further my qualifications to my maximum potential
The current cohort are the first year-group to undertake placements during their course. After a year in a practice, they return to university for examinations and to graduate in summer 2019. They will leave with a Masters degree and as registered optometrists, eligible for full registration with the General Optical Council.
Rakesh Kapoor, ophthalmic director at Specsavers in Wembley, a head of enhanced optical services at Specsavers and chair of the company's London division, has taken on University of Hertfordshire student Jayant Hirani.
He says: 'Jayant will be predominately at the Wembley store, but to enhance his experience he will also spend some days at our Edgware, Stanmore and Barnet stores. I hope his placement will provide a firm foundation in building his career in optometry and making him a first-class optometrist.
'I'm sure his eagerness to learn will be a breath of fresh air for the store.'
Jayant said he was looking forward to the placement. 'It's an opportunity to apply my knowledge from two and a half years at university to real-life situations. I'm new to the Specsavers systems and am very keen to get to know the team and learn the way the practice works. The pre-reg programme is well known to support students throughout the placement year to successfully complete the course. I'm delighted to be joining the team and strengthening my capabilities in order to become a confident and capable optometrist.'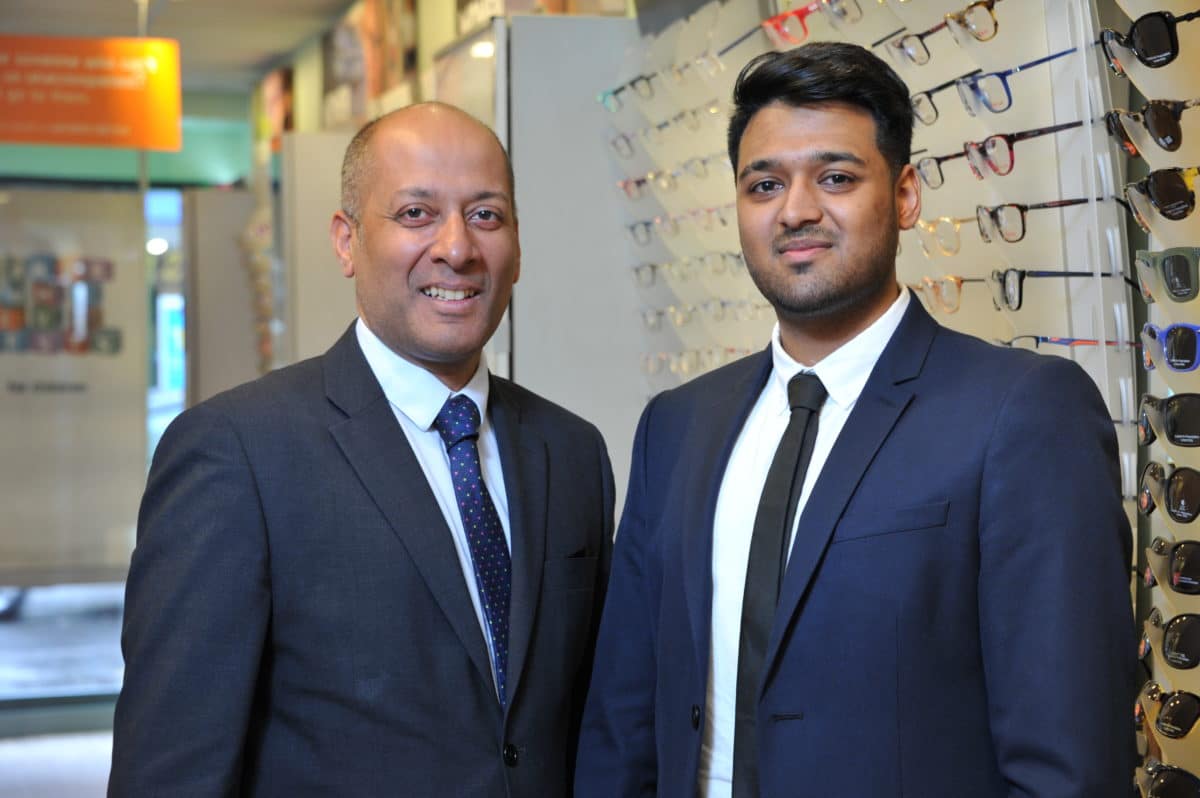 Chris Howarth, Specsavers' director of strategic recruitment, said: 'The collaboration with the University of Hertfordshire is very valuable. It's a connection with a vital partner: an educational institution in a geographically important area. We now have an ongoing relationship with a student body that's going to work for us both in the longer term.
Dr Joy Myint, programme lead for optometry at the University of Hertfordshire, said: 'Specsavers has been fantastic; extremely cooperative and helpful.'
National pre-registration programme
Chris Howarth added: 'Specsavers is widely recognised as having the industry-leading pre-reg programme. In any given year we're recruiting considerably more than 50% of the student body. By this summer, we expect to have recruited 450 out of about 780 optometry students.
'We've invested very significantly in the quality of the programme. We're helped by Professor Steve Parrish and Dr Anna Kwartz, two leading proponents in this area. We've invested in residential programmes, MiniPAC events and PAC in Birmingham once a year. The quality of the course material and the support offered by the optometric partners is also outstanding.
'We have a proven track record of success and pretty much guaranteed employment somewhere in the country. With 800 stores to choose from, there are a lot of employment opportunities – not just in stores, but domiciliary and enhanced optical services as well. And, of course, there's the potential opportunity to become a joint venture partner and run your own store.'
Specsavers' pre-regs benefit from seven days of courses throughout the year-long placement, including a comprehensive induction to help prepare them for life in practice; workshops; assessment preparation and mock exams. The students are also supported by reading material and online modules.
Jayant said: 'The induction was extremely helpful and provided a further insight into Specsavers' pre-reg programme. The partnership with IOT [an optometric training company specialising in pre-registration training] gives pre-reg students great support for their exams and how to cope with visits throughout the year in practice.
'During the induction we were also introduced to the many opportunities available for pre-reg students. Rakesh Kapoor participated in a talk about Specsavers' professional advancement courses and the WOPEC [Wales Optometry Postgraduate Education Centre] programme, which has inspired me to further my qualifications to my maximum potential.'
More on pre-registration programmes…
Share, Print or Favourite