Specsavers optometrists have gained a further 1,000 enhanced services qualification in glaucoma, minor eye conditions and cataract this year, ahead of the company's target for National Eye Health Week.
The achievement takes the total number of WOPEC Level 1 and Level 2 accreditations gained by Specsavers optometrists to more than 11,000. This is independent of the qualifications via other learning institutions and as part of the higher qualifications from the College of Optometrists.
Specsavers has funded the massive accreditation programme to upskill and develop its optometrists in the delivery of enhanced optical services. The move forms part of its 'Transforming eye health' campaign which has also seen an investment of millions in optical coherence tomography (OCT) diagnostic technology, and partnerships with RNIB (Royal National Institute for Blind People) and the International Glaucoma Association (IGA) to raise awareness of the importance of eye tests in detecting sight-threatening conditions.
Paul Morris, Specsavers director of professional advancement, says: 'These fantastic figures show just how committed our optometrists are to furthering their clinical expertise – and reflects a shift in expectations of the services opticians can provide, both from the public and within the profession.
'Graduate optometrists now join us expecting to start working towards their further qualifications and development in their supervised pre-registration period or soon after qualifying. They, like the rest of us, recognise that this medicalisation of optometry represents a great opportunity to broaden their scope of practice.'
This was echoed at this week's [20 September] Specsavers induction day for newly-qualified optometrists (pictured), where enhanced optical services were high on the agenda.
Ashby-de-la-Zouch optometrist Adnan Nawaz qualified in July and gained his Level 2 MECS and glaucoma qualifications earlier this month. He said: 'Knowing I would be supported in gaining my WOPEC accreditations was one of the reasons I joined Specsavers in the first place. It's been great to meet such a variety of optometrists – from newly qualified to more experienced – and find out about how they are delivering enhanced services in their area. It's also opened my eyes to the many other opportunities that are available to me over the course of my career, from working with ophthalmology clinics to potential store partnership.'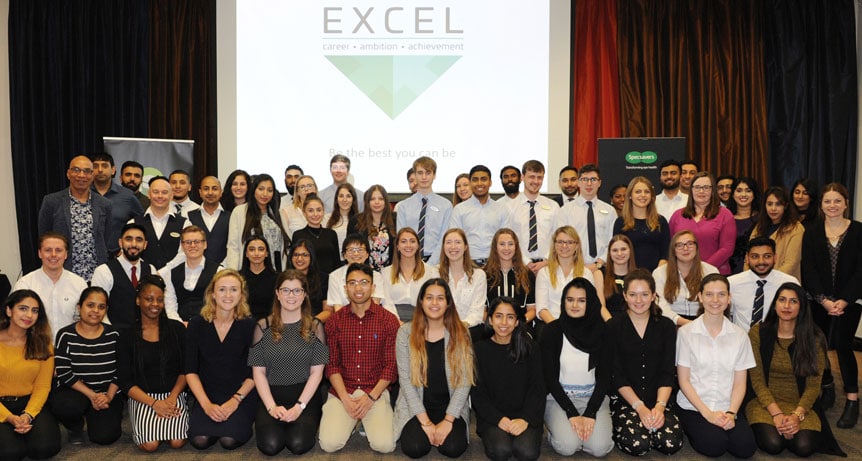 Newly-qualified optometrists, like these at a recent Specsavers induction day, expect to deliver enhanced services early in their career, says Specsavers.
Share, Print or Favourite