A unique
virtual try-on technology that uses facial analysis to scan face shape and features with the aim of taking the guess work out of buying glasses, has launched today. Known as Frame Styler, the technology is being launched in opticians stores across the United Kingdom and the Republic of Ireland.
How it works
Optical teams in store guide the customer through the Frame Styler process, taking a 3D scan of their face on existing store tablets. The tool's imaging software, created exclusively for Specsavers in-store use by technology provider Ditto, produces a high-resolution 3D model of the customer's face and automatically pulls a selection of glasses from 1,200 frames in under one second.
Artificial intelligence creates 12 frame choices per person, based on the customer's face shape, gender, age and the most popular frames purchased by similar customers within the previous month. The accuracy of the AI will increase over time, as the customer's previous frame choices on their customer record informs the frame choices.
Frame Styler identifies styles and colours ranges that suit the customer's face best, from descreet to statement, allowing them to be confident in their choices. It is designed to improve the experience of choosing glasses for millions of Specsavers customers.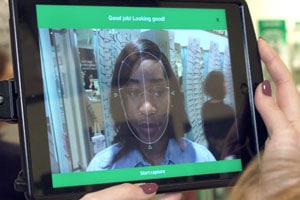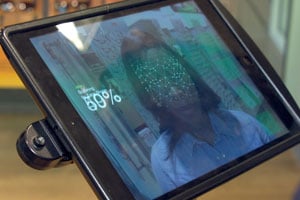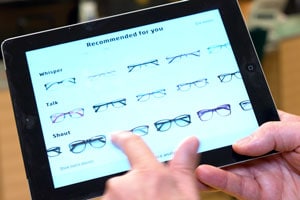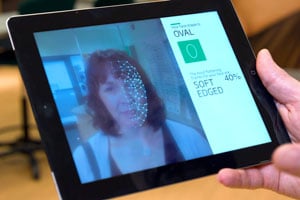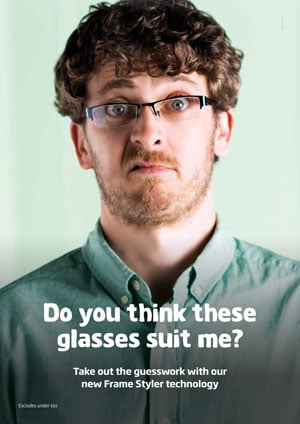 The technology  shows each frame from multiple angles and enables customers to virtually try-on different styles in 3D, comparing how they look with one quick swipe. Allowing. customers to see first-hand how different glasses change their appearance from all angles. In trials, it has proved particularly popular with short-sighted customers who do not wear contact lenses as they can put their glasses back on after their scan and see clearly while they 'try on' new frames.
Paul Marshall, managing director of UK and ROI, says: 'The Frame Styler technology is one more innovative new service that we are introducing in our stores and will enhance the customer journey. Customers love it because it takes the chore out of frame selection.'
The introduction of Frame Styler represents a significant investment in the frame choice and dispensing journey and the largest investment since the introduction of the virtual dispensing tool app, Digital Precision, in 2016. 
After seeing the Frame Styler launched at his Blanchardstown store in Dublin, optometrist director Kerril Hickey was pleased to note that it was a success: 'It's a great customer experience and everyone in the store loves using it during the pre-tests.
A multi-million pound marketing campaign will launch Frame Styler with three different television adverts appearing for two weeks from 3 June. The first ad airs on ITV at 7.30pm on Sunday for the live final of Britain's Got Talent. National marketing with the strapline 'Do you think these glasses suit me? will be live throughout June, including print and digital adverts, outdoor billboards and sponsored social media vlogs.
So, you've just bought new glasses but you're not sure you've made the right choice. Should've gone to Specsavers, on reflection.
Has your choice of glasses left you down in the mouth? When it comes to trying on specs a mirror just isn't enough. Especially not a tiny round one.
Share, Print or Favourite