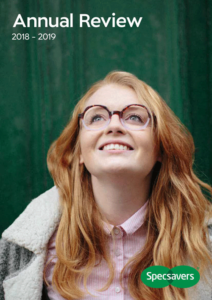 Specsavers' annual review, published today, has revealed another impressive year with global revenue up 6% and a record 60 new UK stores. 
Marking the 35th anniversary of the Specsavers Partnership, the review – which covers financial year 2018-19 – includes developments in products, services and customer offer, support to partners, people development and initiatives, and Specsavers' corporate responsibility approach.
Doug Perkins, chairmand and founder, comments: 'We're now a multi-category business with optics, home visits, contact lenses, audiology and broader eyecare services all playing a part in being recognised as a trusted healthcare brand.
'One critical element of our success is having 37,000 passionate and highly-skilled people as global partners, store teams, office and manufacturing and distribution colleagues – at the heart of everything we do.
'What our 38 million customers across the globe really remember is great human interactions: the special care and attention that our people provide every day.'

The year in numbers:
Overall global revenue was £2.78 billion, up 6% on 2017/18. This includes total UK revenue of £1.47 billion

530 million contact lenses, 21.6 million frames, 400,000 hearing aids sold globally

816 UK optical stores and 49 domiciliary partnerships

A record 60 new UK stores opening, many within Sainsbury's supermarkets

191 stand-alone UK audiology businesses, plus audiology services in 813 UK optical stores

Donated more than £2.5 million to charities and global causes
Enhanced Optical Services
The review also highlights Specsavers' journey to transform eye health. The focus on enhanced optical services (EOS) – those that fall outside the standard eye test – continues and in 2018/19 more than 570,000 customers across the UK  accessed this service – a 37% increase on the previous year.
Most were assessed and treated for minor eye conditions such as red eye or sticky eye, for which they  would otherwise have had to go to their GP or to the local hospital A&E. Others benefited from services such as diabetic retinopathy screening, pre- and post-cataract surgery assessment and glaucoma monitoring.
Working with the NHS and with local optical committees, saw an increase of 22% in the number of  EOS schemes that were commissioned.
Newmedica
Since announcing a partnership with Specsavers, ophthalmology provider Newmedica has introduced new services, doubled the size of the business and delivered ophthalmology services in clinics for more than 120,000 patients during 2018/19.
The company operates across 25 sites in England, covering the major adult sub-specialties of glaucoma, cataract, medical retina, macular and YAG lasers. Four Newmedica eye health clinics and surgical centres opened as ophthalmology joint ventures in the past 18 months and there are plans for at least two more in the year ahead.
The year ahead
Co-founder Mary Perkins summed the group's ambitions for the year ahead: 'Developing our brand to reflect our growing healthcare position at the same time as representing our style and value credentials is an important step in making us fit for the future. The truth behind our purpose hasn't changed since day one: we are here to make a positive difference to the lives of all.' 
Share, Print or Favourite