Another record-breaking year for Specsavers across all markets is confirmed in its annual review for 2017/18.
Three hundred new test rooms were added to practices across the UK and Republic of Ireland, achieved through 41 new stores including ten in Sainsbury's and through hundreds of relocation, expansion or reconfiguration projects. The total number of Specsavers practices in UK and ROI  rose to 845.
Overall global revenue rose to £2.61 billion, up 7% on 2016/17. This includes total UK revenue of £1.39 billion. A 6% rise in domiciliary services revenue was achieved by  teams from 49 partnerships visiting 110,000 UK customers who are unable to visit an optician unaccompanied due to physical or mental disability. Audiology businesses achieved 13% sales growth. 
UK Managing Director Paul Marshall says: '2017/18 has been a year of innovation, underpinned by our uncompromising focus on delivering great value and outstanding service. Performance has been strong in terms of both sales growth and customer volumes'.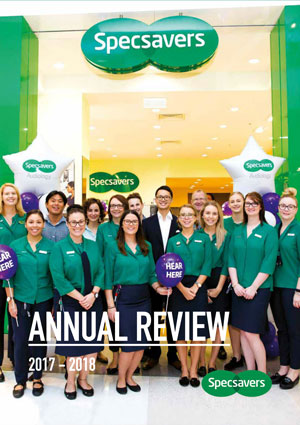 The review also highlights how the Specsavers Partnership has delivered world-class experiences to over 36 million customers and expanded the services offered into primary eye health care. By delivering more enhanced optical services and through its partnership with Newmedica, Specsavers is supporting ways in which ophthalmologists and optometrists can work together to transform eye health.
This is backed up by continuing heavy investment in training to help optometrists deliver enhanced optical services on the high street to relieve the pressure on hard-pressed hospital services. As part of the goal to equip optometrists as 'GP of the eyes', more than 1,800 optometrists in England achieved a WOPEC level 2 accreditation in glaucoma, 2,500 completed level 2 minor eye conditions accreditation as well as 1,197 completing their level 1 cataracts accreditation.
Co-founders Doug and Dame Mary Perkins assert: 'Disruptive forces in healthcare mean that every aspect of our business will transform: how we train and develop our teams, how we interact with our customers in store and online, the ways in which we provide the highest standard of care to our patients.
'It is an incredibly exciting future, and we have absolute confidence that it will be shaped and successfully delivered by the creativity, passion and commitment of our partners and support teams.'
Share, Print or Favourite