A pioneering Ophthalmic Diagnostic Treatment Centre (ODTC) for people in Gwent suffering from an age-related eye condition is being launched at a Newport opticians in a bid to reduce waiting times for assessment, diagnosis and treatment.
The centre is the first of its kind in the UK to see a high street opticians provide initial screening and referrals for people with symptoms of Wet Age-related Macular Degeneration (Wet AMD), and for NHS staff to deliver treatment for the condition from the same high street location.
With funding from the Welsh Government, the new ODTC centre, titled 'Austin Friars Eye Treatment Centre' has been developed through collaboration between Aneurin Bevan University Health Board and Specsavers, Newport City Centre.
Gwent residents with Wet AMD will be treated at the Austin Friars Eye Treatment Centre from 5 September 2016. From October 2016 the centre will also provide assessments for patients.
Wet AMD affects the macula at the back of a person's eye and, if left untreated, can cause vision to deteriorate within days . Currently, the National Institute for Health and Care Excellence (NICE) target for the first treatment of Wet AMD is 14 days, however, waiting times in Gwent could be reduced due to improved access.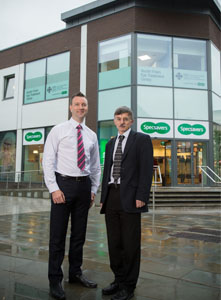 Chris Blyth, Clinical Director and Consultant Ophthalmologist at Aneurin Bevan University Health Board, said: 'Our eye clinic staff look forward to using the new clinic in Austin Friars, Newport, which is a high street location that our patients can easily access.
'The purpose-built facility provides much needed additional capacity and will reduce congestion in the main eye clinic at the Royal Gwent Hospital. As a result, we expect waiting times and the number of delayed follow-up appointments to reduce.
'It will greatly improve the quality of service we can offer to people with some of the most common sight-threatening eye diseases in Gwent.'
Currently around 20 people a week who are suspected to have wet AMD are referred to the Health Board, 1,000 people are treated for Macular Degeneration every year.
The service will create an additional 1,600 appointments a year and sees Specsavers' optometrists provide an initial screening service, the results of which will be reviewed virtually by a hospital-based ophthalmologist to speed up the process of diagnosis and referral for treatment.
The Health Board will continue to have Wet AMD clinics at Neville Hall and Ysbyty Ystrad Fawr hospitals, but patients who would have been previously referred to the Royal Gwent Hospital will instead be seen at the purpose built 'Austin Friars Eye Treatment Centre'.
Craig MacKenzie, store optometrist director at Specsavers in Newport, said: 'The speed that someone receives treatment for Wet AMD is absolutely crucial. Damage to the macula can permanently distort a person's ability to see detail and colour, which is why the launch of the new treatment centre is such a significant partnership.
'By bringing primary and secondary healthcare providers together to deliver clinical assessments and treatments in a community setting, more patients will benefit because of reduced waiting times and its central Newport location, which has nearby parking, excellent public transport links as well as range of amenities on our doorstep.
'We're very excited to be part of such a groundbreaking collaboration and hope that this treatment centre will benefit thousands of Gwent residents in the years to come.'
Welcoming the launch of the centre, Specsavers co-founder and optometrist Doug Perkins said: 'This is exactly the kind of enhanced optical service that we should seek to be involved in as optometrists, using our skills to the benefit of patients and helping to ease the pressure on the hospital service.
'I am delighted that Specsavers is playing a key role in this unique scheme.'
The launch of the ophthalmic diagnostic and treatment centre for wet AMD follows the establishment in May this year of a pioneering glaucoma scheme in Gwent which saw three community eye care centres set up at Specsavers in Austin Friars, Julian Davies Opticians in Newport and Phillips Opticians in Torfaen.
Share, Print or Favourite