A new report from a group of MPs has called for urgent action on eye health in England.
The report, 'See the light: Improving capacity in NHS eye care in England', was launched at the House of Commons by the All-Party Parliamentary Group on Eye Health and Visual Impairment on 6 June.
'The current system is failing patients on a grand scale,' it says. 'Services are delaying and cancelling time-critical appointments, resulting in some patients not receiving sight saving treatment and care when they need it.'
Paul Morris, Specsavers' director of professional advancement, was at the Parliamentary event along with Specsavers co-founder Dame Mary Perkins (pictured together above). He said: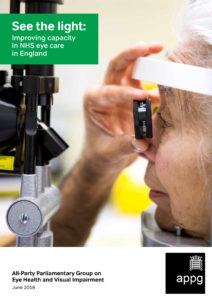 'We very much support the APPG's call for urgent action on eye health to deal with current demand and plan for future need.
'In particular we welcome the focus on the need for service redesign and the recognition of the role that local optometrists can play right now in alleviating the pressure that hospitals are under.
'There are already some great examples of optometrists providing advanced eye care services on behalf of the NHS in accessible locations in the community. Many Specsavers stores are involved in such schemes, including glaucoma referral refinement, management of ocular hypertension and cataract care as well as the management of minor eye conditions such as conjunctivitis and red eye.
'Together with RNIB we will continue to champion the role of optometrists in preventing avoidable sight loss by providing eye care in the community.'
The secretariat for the APPG's inquiry was provided by RNIB, Specsavers transforming eye health partner, and by the Optical Confederation.
Share, Print or Favourite