Following the launch of a unique low vision awareness course for optical colleagues developed by RNIB and Specsavers optometrists, more than nine out of ten Specsavers stores in the UK now have an official RNIB Ambassador on the team.
The online training course includes eye health and enhanced optical services (EOS) opportunities, support for customers with visual impairment as well as the significance of Specsavers' partnership with RNIB and the shared mission to transform the eye health of the nation.
The course was devised by Specsavers optometrists, led by director of optometry advancement Ross Campbell and in conjunction with RNIB. It has received some great feedback including from Craig Mackenzie, an ophthalmic director in Newport, Wales: 'This is a brilliant piece of training. Some of our team have previously mentioned wanting to know more about the clinical side of eye health and this course provides that in an accessible and engaging format. It's pitched just at the right level – not too much and not too little information – and everyone that completed it found it really useful.'
Philippa Simkiss, Head of Partnerships, RNIB, added: 'It's been a fantastic partnership experience working together to develop the course. Ambassadors have learnt how to provide great customer experience to people with low vision and refer people to RNIB for more information if they need it.'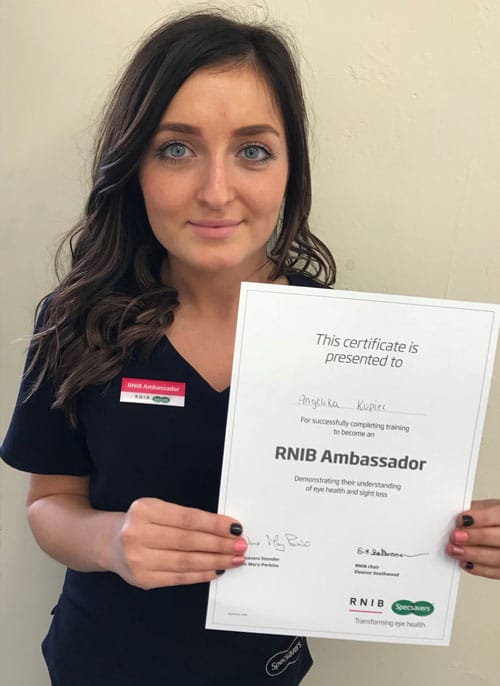 Course objectives:
Explain the impact of sight loss on everyday life
Identify the link between eye health and enhanced optical services (EOS)
Meet, greet and guide a customer around the store environment
Demonstrate how to support people with a visual impairment
Describe how to make things accessible to customers with a visual impairment
Describe the impact technology in store has had on eye health
Advise the reason for eye test recall and the importance of EOS
Explain why regular eye tests are so vital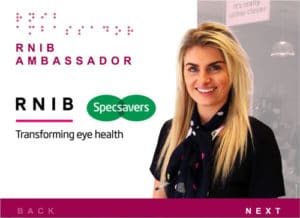 This training is in addition to glaucoma training developed in conjuction with the International Glaucoma Association earlier in the year.
Above, from left to right, Gareth Davies (RNIB), Newport store partner Craig Mackenzie, Ansley Workman (RNIB) and Morgan Williams, optical assistant, trial the new RNIB Ambassador training
Share, Print or Favourite