Care home residents who have missed out on eye tests during the pandemic are once again able to access Specsavers home visits service with the rollout of the government vaccination programme.  
Approximately 418,000 people live in care homes in the UK1. This is 4% of the total population aged 65 years and over, rising to 15% of those aged 85 or more. According to Laing Buisson (2018) there are 11,109 care homes for older people and those living with dementia. Of these, 42% (4,632) were registered nursing homes. 
Demand for the service has significantly increased over the last month and one domiciliary optometrist delighted to get back out and see her customers is Julie Benson.  
Julie, who covers the Bournemouth region says: 'I have been really concerned about some of my elderly or vulnerable customers over the last year, as they rely on their vision to help them avoid accidents in the home and keep them safe.' 
She continues: 'Research2 by Specsavers shows that nearly half of the population (42%) has experienced sight deterioration since March 2020. I'm acutely aware of the impact this has on my elderly, vulnerable customers' lives. Poor sight often means they can't enjoy their usual hobbies, which can make them feel isolated from those around them and stops them seeing their loved ones on a video call.' 
Lisa Gascogine, manager at Merlin Park care home in Gosport echoes Julie's views and says: 'The Specsavers team will be visiting us shortly to see our residents now that we've had our first batch of vaccinations. We know how important this service is because it's the little things that matter a lot to our residents – being able to watch their favourite television programme, enjoy the crossword and read a book or letter from a family member.' 
Laing and Buisson survey 2016
Specsavers Customer Panel.  8th Jan – 11th Jan.  N = 2,417
At home visits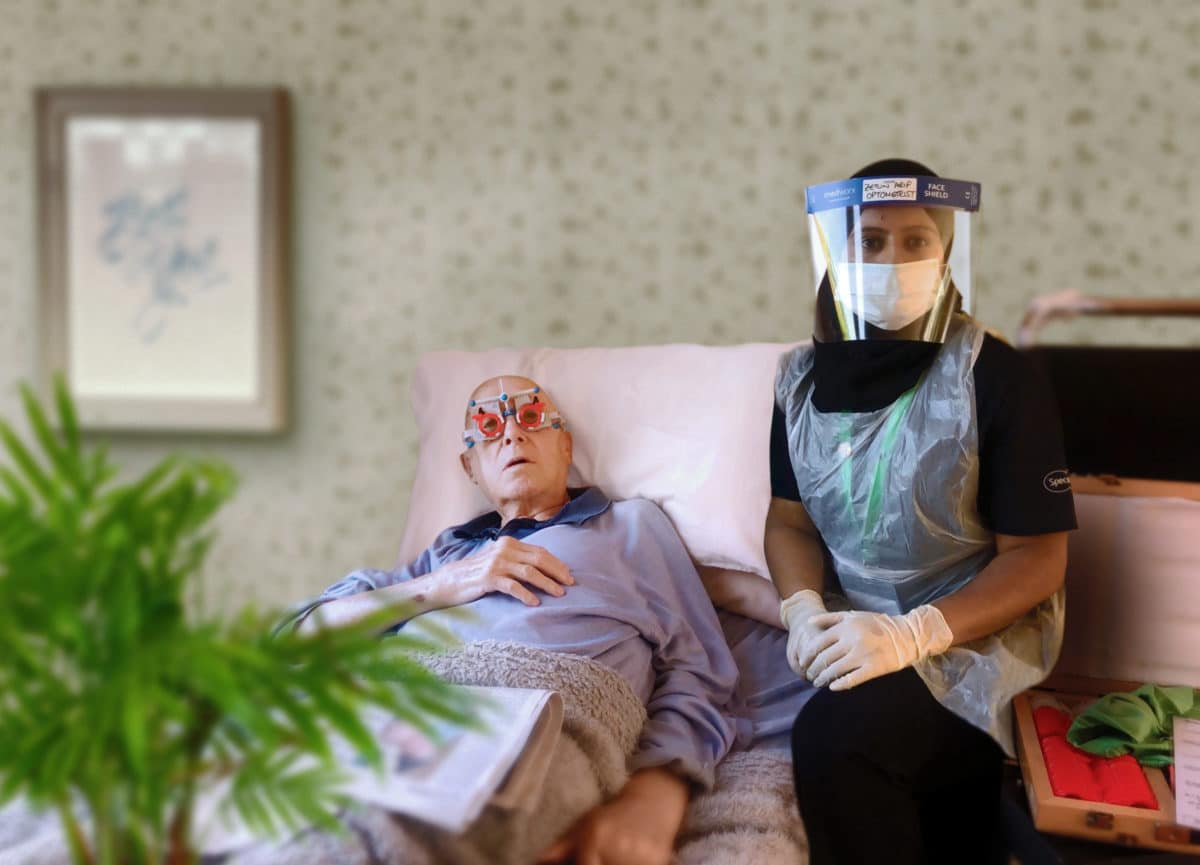 Although care home visits needed to be put on hold, domiciliary practitioners were able to carry out home eye tests throughout the lockdown 2.0 and 3.0 to help those unable to leave home. This is something that has been a lifeline for many. 
One of the customers who benefitted from the service, is 65-year-old John Morgan. Mr Morgan was unable to leave home due to his heart failure and micro-phobic anxiety and so the Specsavers team in Manchester were able to visit him at home.  
Gaynor Morgan, Mr Morgan's wife, says: 'My husband was complaining that he was having trouble seeing the TV. I booked an appointment at Specsavers, who came to the house.  
'John was fitted with a new pair of glasses which have improved the quality of his life so much as he can finally see the TV properly. The service was absolutely top notch and we felt safe the whole time as the team had full PPE on and their hygiene procedures were impeccable.' 
Julie concludes: 'I have visited a few residential care homes recently and what struck me was how important human interaction is particularly for this group who have been shielding for a long time. They were happy to see me in my professional capacity, but the fact that they were seeing a different face from the outside world clearly made a big impact. It has been a very humbling experience.' 
More like this...
Sign up to Spectrum for free CET and clinical updates.
REGISTER
Share, Print or Favourite