Proving and improving the value of optometry: the power of internal audit and review
12pm, Sunday 31 March, Optrafair Exchange, Birmingham
With the sustainability of the profession under threat, what more can and should be done to improve patient outcomes and demonstrate the value of optometry?
The lecture will be introduced by Doug Perkins, co-founder of Specsavers, who will share his analysis of the disruptive change facing optometry and his views on what optometry must do to survive and thrive. Paul Morris, Director of Professional Advancement, will then describe how existing data for patients and practitioners can be harnessed to improve outcomes, whether you work in independent practice or in a multiple. He will provide insight into the potential power of internal review and audit to deliver benefits to multiple stakeholders including patients, the NHS and those who finance health services in our sector. And he will highlight the importance of informing patients of their right to choose and involving them in their care.
Paul Morris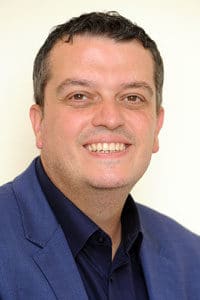 Paul is the Director of Professional Advancement for Specsavers in the UK and Ireland. The role involves furthering clinical scope, professional services, standards, training and shaping future strategy for the group, including audiology and ophthalmology.
Paul is also the Ophthalmic Director of the Bridgend and Porthcawl stores in South Wales.
Outside Specsavers, Paul has been a Director of FODO, Chair of the Optical Confederation IT and Information Committee as well as an Optometry Wales Vice Chair. He has previously undertaken work as a clinical supervisor for the AOP and was founder and Director of BAM Optical Training & Solutions that delivered teaching to optometrists and pharmacists in ocular pathology. Paul has also held positions within the hospital eye service as well as the School of Optometry and Visual Science in Cardiff and in 2011 began working within WOPEC (Wales Optometry Postgraduate Education Centre) to deliver postgraduate training and inform policy.
Doug Perkins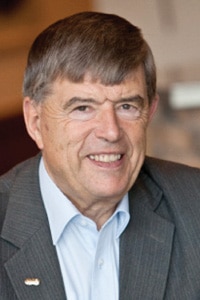 Co-founder and joint CEO of Specsavers, Doug Perkins is a qualified and registered optometrist of more than 50 years.
He and his wife Dame Mary, who he met when they were studying optometry in Cardiff, established Specsavers' joint venture partnership model in 1984 with the vision of making eyecare more affordable.
A leading figure in optometry and audiology, Doug is accountable for the overall success of the Specsavers partnership in ten countries, with more than 23 million customers in the UK alone. He is firmly focused on the advancement of professionalism and healthcare within the optical sector.
Doug has been awarded an Honorary Fellowship of Cardiff and Swansea Universities and Honorary Doctorates from Anglia Ruskin, Plymouth and Glasgow Caledonian Universities for his pioneering and innovative contributions to the development of health care in this country and overseas, with particular reference to optometry, and his support for the evolution of professional education in optometry.

Share, Print or Favourite