Optometrists in Daventry swapped the test room for the town centre to raise public awareness of Enhanced Optical Services (EOS).
Optometrist Amit Naik and pre-registration optometrist Bhargavi Zinzuwadia (pictured above left), supported by front of house staff with leaflets and merchandising, set up a pod in a busy square near the store.
The initiative was to raise awareness of eye health, while informing the public about the store's EOS provision, in the run-up to National Eye Health Week (24-30 September 2018). Teams from the store will repeat the initiative during National Eye Health Week itself.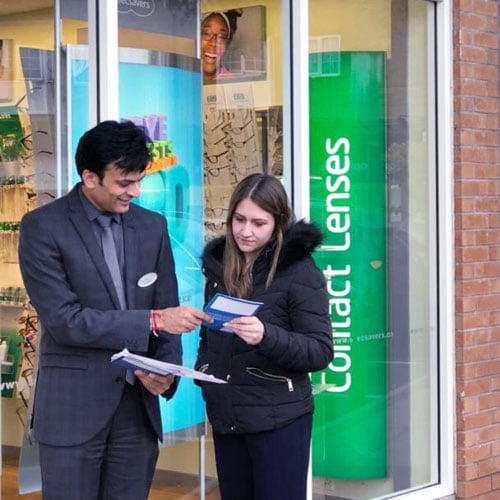 Amit Naik says the response from the public was very positive. 'Once they realised we weren't trying to sell them anything, they were very interested in the additional services we had to offer,' he says. 'I met some of my regular patients who I've tested for years, who didn't know about the enhanced services we offer now. They found it useful to know we could be their first port of call for any eye-related problems, and it was good to show them that there's another side to us optoms, not just prescribing spectacles and contact lenses.
'Some of them were even reminded by seeing us that they needed an eye test, and it gave them the opportunity to seize the moment and book in!'
Satvinder Soomal, the store's ophthalmic director and a head of EOS at Specsavers, says: 'I'm trying to promote our optoms to be proud of what they're able to do – they're able to save sight, not just test eyes.
'All optometrists have the skill set to detect eye disease and manage it accordingly. But our optoms at Specsavers Daventry have taken it a step further by attaining further accreditation and training via Wales Optometry Postgraduate Education Centre (WOPEC)in Minor Eye Conditions Services (MECS) and Glaucoma Refinement. I would like all the team to be advocates for EOS.
'I also want people to know they can come into store and be seen by a familiar face. In the old days you could go to the GP and it was always the same person. I want to give customers that same feeling of recognition and trust.'
Satvinder explains: 'I asked the optoms to have a chat to passers-by and find out if they had any questions or concerns about their eyes.
'They talked to people about the importance of regular eye tests, but they were also able to say, "We don't just do eye tests" and talk about the eye conditions that we deal with in store, including red eye, dry eye, watering eye, blepharitis, flashes and floaters in the vision.
'They explained that all our optoms are fully trained and accredited to take care of and examine eyes and any problems with eyes, and talked about the high-quality equipment we have in store, such as our retinal photography and Optical Coherence Tomography (OCT) machine.'
EOS is currently only available at Daventry on a private basis, due to NHS funding. Satvinder says: 'We offer eye health appointments for many reasons. We can offer same day or next day appointments for eye concerns – done by a triage service in store, by trained members of the team – which is convenient for patients and also saves the NHS a lot of money. Saving unnecessary visits to the GP and hospital eye department ultimately preserves the NHS budget and reduces appointment delays.'
Satvinder, a former deputy head of optometry at Birmingham Midland Eye Centre, says: 'I can see how Specsavers is leading the way in transforming eye health. This is what it's all about: saving people's eyes.'
The store's community engagement initiative was written up in the local newspaper, the Daventry Express– ensuring the message will reach even more of the local community.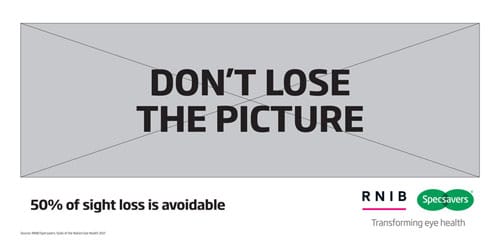 Share, Print or Favourite