More than 80,000 teens were inspired to think about a career in optometry or audiology at the Big Bang Fair in Birmingham which ran from 13 to 16 March.
A team of 40 people from Specsavers offered a series of interactive activities designed to be both fun and educational for students from year 9 upwards for students studying science, technology, engineering or mathematics (STEM). The team comprised store directors, optometrists, head of enhanced optical services and the careers team.
Students aged 14+ viewed their friends' eyes through Optical Coherence Tomography from Birmingham Optical Group. They also experienced simulation vision impairment using VR technology. They also had the opportunity to try out  audiology equipment including a video otoscope.
Lucy Knock, early careers manager, comments: 'This is the third year Specsavers has showcased our services to teens at the Big Bang – which has proven to be a great opportunity to raise awareness of careers in optometry on a national level. We know that optometry is one of the best kept secrets in healthcare careers and this needs to change if we are to have a sustainable profession.
'We are committed to building relationships with the next generation of optometrists and exhibiting at STEM career events is a significant part of our overall Early Careers strategy.
Feedback over the four days was positive, with students of all ages saying they loved the hands-on activities which gave them a chance to talk to Specsavers' experts and to hear more about how they can change people's lives by working in healthcare on the high street.
Parents and students praised the experience:
'Wow, I loved seeing the back of my eye! I didn't realise there are so many roles I can choose from. I really enjoyed speaking to the experts'Isabella Massey (second from left), Y9 Royal Masonic School for Girls, Hertfordshire
'I like meeting the different team members and talking about their careers.'Abbie, Larbert School, Scotland (third from left) with Harry Stewart, Optometrist@lions yard, Cambridge store (right) and Jay Visrolia, Retail partner, Lakeside (left)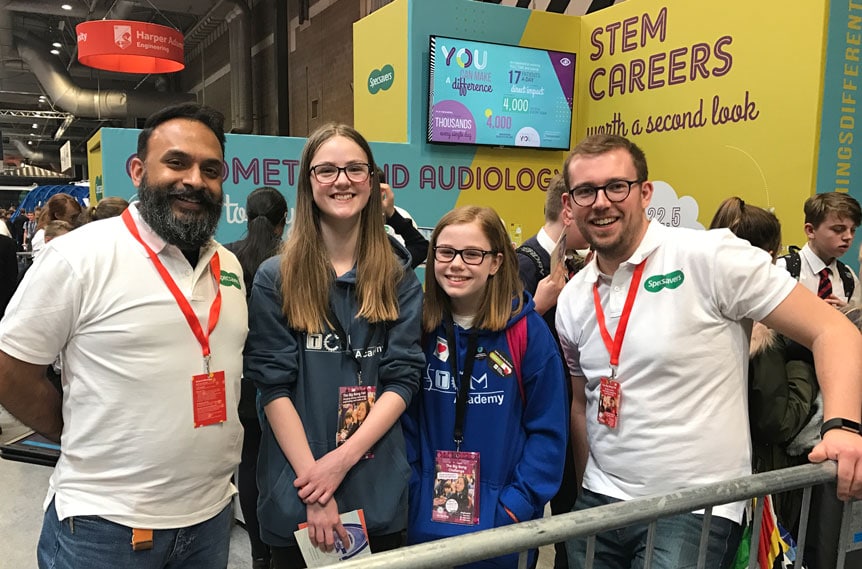 'This is great for students. Hands on, practical activity helps them learn, and it's exciting to see them get to grips with the technology involved' Miss Sutton, Y8 school teacher
Share, Print or Favourite