In time for the 2018 World Glaucoma Week (11-18 March) Specsavers optical front of house teams are training to better support patients with the condition.
Often symptomless in its early stages, glaucoma is one of the leading causes of irreversible sight loss. It is thought to affect 700,000 people in the UK today, but the RNIB have reported that as many as 50% of cases are undiagnosed 1.
In conjunction with the International Glaucoma Association, Specsavers has developed training for its clinical assistant and retail teams to assist with glaucoma treatment. Specifically, they will be advising on how to effectively administer eye drops, which are crucial for managing the condition.
Over 3000 people have completed the training in the fastest training rollout in the company's history – as the aim is for each store to have at least one person on the shop floor that has completed the course this World Glaucoma Week and beyond.
This new training complements the skills held by Specsavers' optometrists, who have collectively completed almost 5,000 postgraduate glaucoma accreditations since 2017, through a variety of accrediting bodies including Cardiff University and the College of Optometrists.
Specsavers customer Alan Murphy was just 37 when a trip to Specsavers in Connswater, Belfast, found the early stages of glaucoma. Thanks to early detection, his condition is now managed by using eye drops daily. Alan, now an advocate of regular eye tests and good eye health, believes early diagnosis and careful management has saved his sight and says: 'I would strongly urge people to go for regular eye tests, and to make the most of the advice and support provided by their local optician.'
Karen Osborn, chief executive of IGA, says: 'The majority of people who are diagnosed early with glaucoma will retain useful sight for life. Most will be treated with medical eye drops. Unfortunately we know from calls to our helpline that many people aren't told about how to put the drop in the eye correctly, or aren't advised about the aids that are available to help them. We are delighted to work with Specsavers on this often over-looked aspect of glaucoma management.'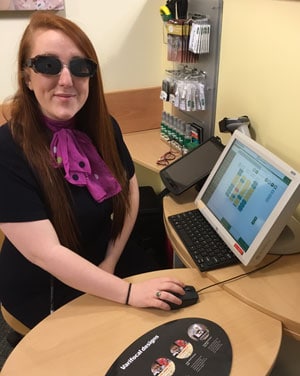 Some of Specsavers stores have ensured that all of their teams have completed the IGA training together. Pembroke Dock now have all 22 team members accredited.
Their optometrist director Andrew Williams said: 'Being able to better support our customers with glaucoma is a really positive development for our team and we are very proud that everyone has taken part in this training.
Fellow director Ellie Thomas-Wigley added: 'Our store is such a big part of the local community and it is really important to us that we can provide the very best service to our customers and support someone with glaucoma in the most effective way possible.'
A Ludlow customer is sharing his story to highlight the importance of regular eye tests and thanking the team of highly-qualified optometrists. Colin Reynolds, aged 67, had a routine eye examination to discover he was experiencing early stages of glaucoma.
'I hadn't experienced any symptoms at all,' says Colin. 'I wear glasses for reading and visit my opticians once a year. During my appointment, early signs of glaucoma were spotted.'
'We noticed that the pressure had increased in Colin's eyes since the previous year,' says Nicola. 'We referred Colin to the local eye department where the ophthalmologist gave him specialist eye drops. If this had not been detected, the condition would have deteriorated and led to a loss of eyesight.'
Colin continues: 'I'm extremely grateful to the team at Specsavers in Ludlow. Visiting the opticians prevented me from losing my sight, which would have changed my life dramatically. I would urge everyone to have their eyes tested regularly, even if you don't need to wear glasses or contact lenses.'
Share, Print or Favourite