A brand-new state-of-the-art eye health clinic and surgical centre has been opened ophthalmology company, Newmedica, in North Ormesby in Teesside.
Set up as a Newmedica ophthalmology joint venture partnership with consultant ophthalmologists Qasim Mansoor and Philip Severn as clinical directors and Annette Johnson as operational director, the clinic provides NHS and private ophthalmology, including cataract surgery and glaucoma treatment, in a non-hospital environment.
The clinic accepts referrals from local optometrists, as well as from GPs, and patients will return to their optometrist for aftercare.
Patients will typically be seen within two weeks for their first appointment, and then have their surgical treatment within the following four weeks.  Services include cataract surgery and management; ocular hypertension and glaucoma treatment and monitoring; oculoplastic surgery; medical retina and YAG: laser treatment designed to improve vision after cataract surgery.
Annette Johnson, operational director, says: 'According to data from the Royal National Institute of Blind People (RNIB), around 400,000 people across Yorkshire and the Humber live with varying stages of glaucoma, macular degeneration and cataracts. 
'The opening of Newmedica in North Ormesby is one positive step towards avoiding preventable sight loss for many. Our launch has been driven by patient demand. Local people need access to exceptional eye surgery and treatment without the unnecessary worry of long waiting times. We can address this need.'
Teesside is the fifth joint venture eye health clinic and surgical centre to be set up, following openings in NE Lincolnshire, Gloucestershire, Bristol and Leeds.
Newmedica has built up a proven track record of working with the NHS, providing services for NHS CCGs, NHS Trusts and Foundation Trusts, and other providers of NHS funded services in 28 locations across England and delivering more than 120,000 patient interactions annually. According to a recent patient survey (2018/19), 98% of patients are likely to recommend Newmedica to their friends and family.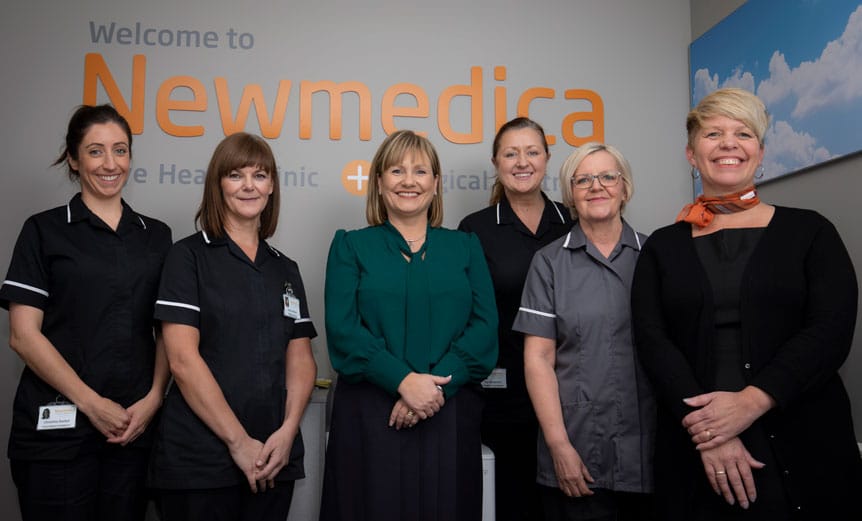 From left to right: Christina Rocket, Theatre Lead Nurse; Donna Wilson, Ophthalmic Technician; Annette Johnson, Operational Director; Kay Henderson, Outpatient Service Manager; Jayne Bell, Clinical Assistant; Elizabeth Feeney, Administrative Manager
Share, Print or Favourite