The International Glaucoma Association (IGA) has launched a new booklet aimed at patients identified as being at risk of glaucoma during a routine eye health check. The charity hopes that community optometrists across the UK will stock the free Eye Clinic Referral booklets and give them to any patients identified as being at risk of glaucoma.
IGA CEO Karen Osborn explains "The booklet will help everyone involved: the optometrist, the patient, and the consultant."
The charity said that it recognises that it can often be difficult for optoms to give a patient the news that they have some of the signs of glaucoma, particularly during busy clinics. "The condition isn't well understood and can be difficult to explain. On top of that, patients may be worried and upset, and not in the best frame of mind to take in what their optometrist is saying. Having information to take away and read when things are a little calmer will really help patients, and of course it helps optoms provide excellent customer care".
The booklet covers detail that the patient may need to know about being referred in to the eye clinic: what glaucoma is, what to take with them to the first appointment, what information to tell the consultant, and what tests will be done. "We also go through some of the treatment options so if someone is diagnosed with glaucoma they'll know a little more about what to expect. And we suggest some questions they may want to ask the ophthalmologist, so they'll leave the appointment better informed about their condition, and hopefully more likely to adhere to treatment."
The booklet should also help ophthalmologists, who, according to the IGA, report being frustrated at the time that's wasted in the initial clinic appointment.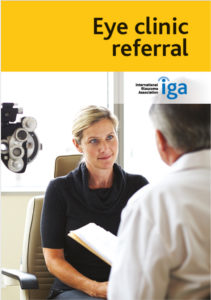 "Patients often arrive unprepared and lacking the information needed by clinicians, like what medications they take, what medical conditions they have and whether there's a family history of glaucoma. The time taken to pull all this information together means less time talking to the patient, discussing their diagnosis and working together to plan their treatment. Hopefully this booklet will help to change that".
The booklets are available free and can be ordered from the IGA website. 
Share, Print or Favourite