Specsavers has taken its CET programme on the road, delivering over 25,000 CET points to more than 2,000 practitioners since the start of the year.
The company's 'MiniPAC' Roadshow began life in 2014 to offer additional regional conference days alongside its popular annual Professional Advancement Conference (PAC). Since then, the size and scale of the roadshow events has increased year on year to incorporate multiple tracks for different practitioner groups, exhibition space for sponsors and suppliers, and extra delegate places for non-Specsavers practitioners.
This year's roadshow saw 12 events take place between March and May, with up to 300 attendees at some of the larger venues and each event offering up to 16 interactive points. On top of this, Specsavers delivered three full days of packed-out, free CET sessions as part of its presence at both 100% Optical and Optrafair trade shows, with plans to expand on this next year.
Says Gill Robinson, Director of Professional Training and Development: 'We're extremely proud of our CET programme and the expertise that, as an organisation, we are able to draw upon from our own network of Specsavers clinicians and our colleagues in ophthalmology, manufacturing and the industry bodies.
'We know how much practitioners get out of this kind of face-to-face training, especially the peer discussion elements. A huge amount of work goes into hosting high-quality interactive CET events like this, so we make it our mission to deliver them to as many practitioners as possible, regardless of who they work for, and in as many locations as we can. Then once the MiniPACs are over we start all over again, devising a new programme for our flagship PAC in October.


Above left: Specsavers Head of optometry development Kiki Soteri talks to delegates at a CET workshop focussed on optometrist development opportunities.
Above right: Delegates try out OCT equipment at one of the OCT supplier drop-in sessions.
This year's events offered strong clinical programmes for optometrists, dispensing opticians and contact lens opticians, with sessions on oculoplastics, headaches in children, glaucoma decision-making, paediatric dispensing, non-compliance in contact lens wear, and dealing with patients with complex needs.
Many of the workshops focussed on key skills for the delivery of enhanced optical services, such as triage procedures, collaborative care, differential diagnosis and referral strategies.
Elsewhere, there was much interest in the OCT image interpretation sessions and drop-in clinics with Heidelberg Engineering and Nidek suppliers Birmingham Optical Group, for practitioners to get some hands-on experience as part of Specsavers' national OCT rollout.
Specsavers' main Professional Advancement Conference is open to all practitioners and will take place on Sunday 21 October, at the ICC Birmingham.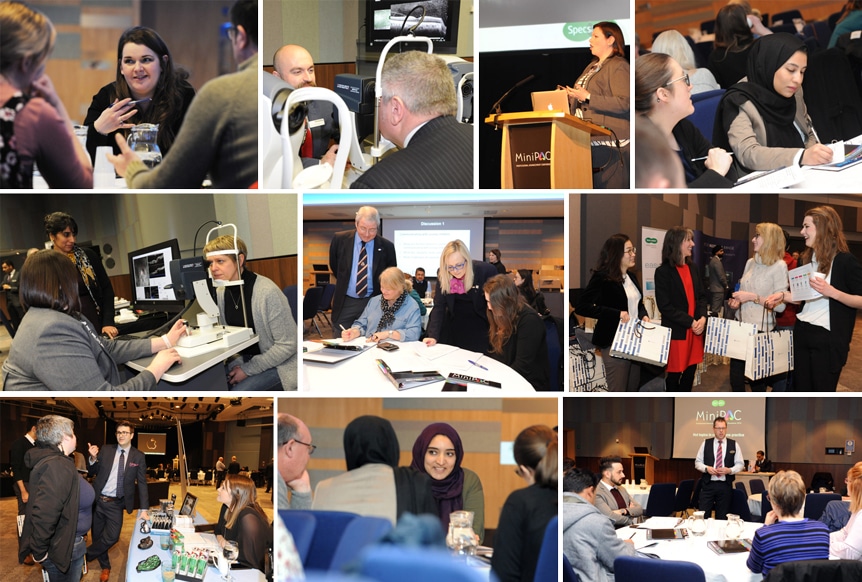 Share, Print or Favourite