An optical assistant gave a mass sign language lesson to more than 2,000 partners and managers at the Specsavers Seminar this year when she was invited on stage by joint group CEO John Perkins to celebrate the service she had provided to a deaf customer and her overall enthusiasm for working at Specsavers.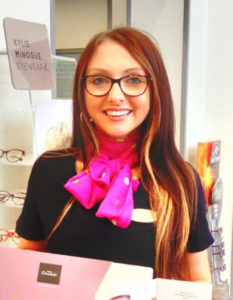 Lucy Kennedy, 23, left, from the Bellshill store in Lanarkshire learnt to sign so that she could communicate better with John McBride, a customer who has been profoundly deaf from birth.
After meeting Lucy on a store visit and finding out that she had won the overall Specsavers award for excellence in customer service, John Perkins asked her to join him in his closing speech at the Seminar.
He said: 'A year ago Lucy was working for a utilities company in their emergency call centre. She had been there six years and it was killing her. They didn't want her to grow and she couldn't see a way out. She and her team were doing the bare minimum because that's what their bosses were giving them.
'Lucy wanted to help people and be the best she could be. When she met Kirsteen Newman – a dispensing optician and the soon-to-be partner at a new store in Bellshill – at a friend's wedding, she couldn't believe her luck. Kirsteen handed Lucy what she calls "the biggest lifeline ever".
'Kirsteen wanted to recruit "interesting people with a strong purpose" who love helping customers, because she knows the way you treat your employees is the way they will treat your customers.'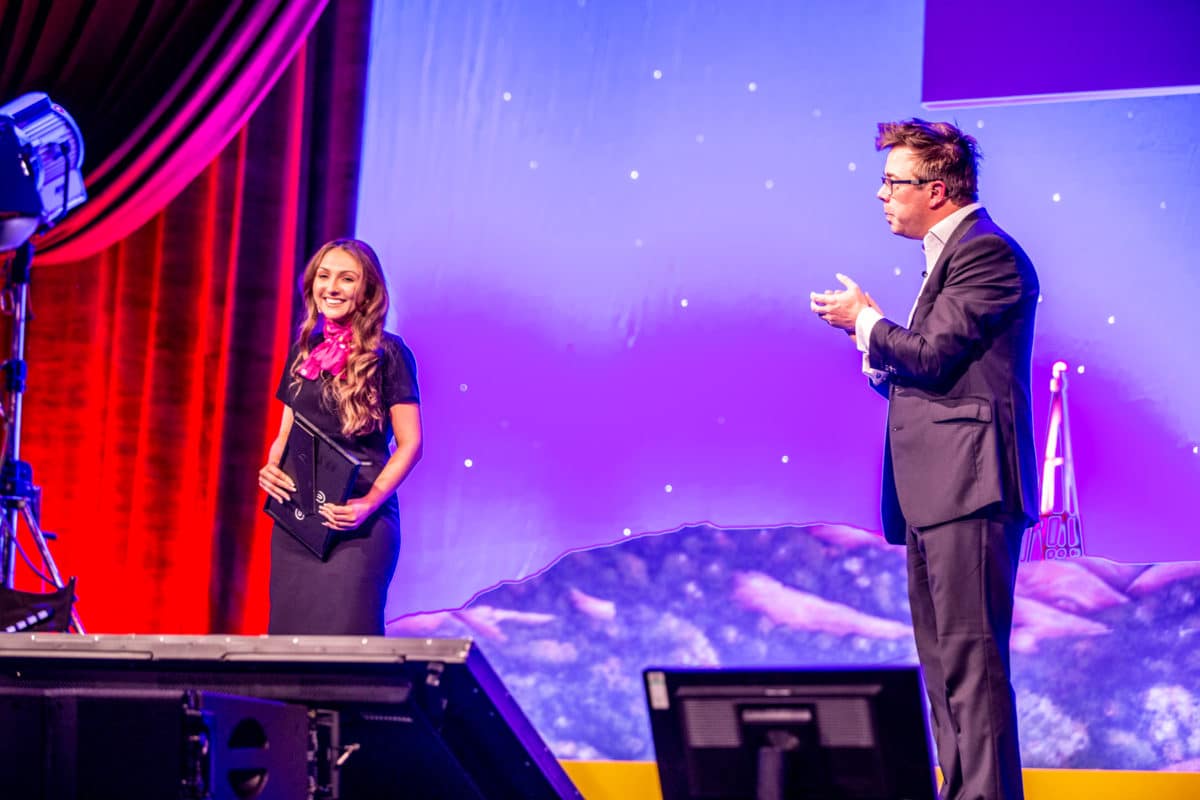 Lucy Kennedy and John Perkins on stage
John went on to explain how, just two weeks into her new role, Lucy was disappointed that she only knew a few words of sign language when trying to communicate with Mr McBride. So she went home and asked her mother, a teacher of British Sign Language, to teach her to sign properly. Everything she'd need to check his vision with his new glasses and explain how to care for them when he came to pick them up.
He said: 'Her customer was delighted. And so were his family. They all come into the store now and are helping Lucy and her colleagues learn more sign language.'
Joining John on stage, Lucy confirmed, 'This is all down to the encouragement and training we've received from our store partners Kirsteen Newman and Doug Waugh– their positivity.
'I tell everyone I know what a great company Specsavers is, and I hope I'm here for life. I would never have said that about my last job.'
As well as the customer service award, Lucy went on to win the audiology learner of the year. She is now studying for the new Enhanced Optical Services diploma for clinical assistants which leads to the BTEC Level 2 Diploma in Healthcare Science, approved by the Royal College of Ophthalmologists.
See also Bellshill optical assistant praised for customer care
Share, Print or Favourite