A Scottish woman is now in remission after her persistent optometrist sister persuaded her to have an eye examination – saving her life.
Elaine Easton was diagnosed with cancer inside her lower right eyelid after suffering from symptoms of what she thought was an eye infection.
The mum-of-two was referred to Hairmyres Hospital in East Kilbride by her sister Shirley-Ann Kennedy, store director at Specsavers in the Lanarkshire town.
Elaine (55) has made a full recovery following surgery and doctors said her sister's swift referral helped to catch the cancer early.
The recruiting officer from Uddingston first experienced symptoms in April 2017 after having a cold and put the symptoms down to being 'run down'. But the issues with her right eye persisted.
She says: 'A few weeks later it became bloodshot. It ranged in severity – some days my eye was very bloodshot and other days it wasn't too bad.
'At this point I thought I had an infection from rubbing at my eye as it always felt like there was something irritating it. I went to a pharmacist and bought over-the-counter antibiotic eye drop and went back a week later for more as it was still bothering me.
'But the pharmacist said if the eye drops still hadn't worked I should visit my opticians, so I told my sister who's an optometrist. She badgered me to come into her store as soon as possible.'
Optometrist Shirley-Ann adds: 'Elaine was reluctant to come in for the examination as she thought it would be nothing but I talked her round as I know the dangers of ignoring problems with your eyes.
'When I examined Elaine I could see a lesion on her bottom eyelid. In my 30-year career I had never seen anything like it and nor had my colleagues. The possibility of it being cancer crossed my mind but it was very important for me to remain objective and I referred Elaine to her GP and arranged to see her again a week later.
'During the second examination the wart-like lesion had grown so I took the decision to refer her straight to Hairmyres Hospital there and then.'
Shirley-Ann accompanied Elaine to her hospital appointment where it was initially thought the lesion could have been a flat-based wart, and was given steroid drops and advised to return for a check-up after four weeks.
During the appointment, Elaine was advised to return to the hospital for a biopsy. The results revealed the lesion was cancerous.

In November 2017, Elaine underwent surgery at Gartnaval Hospital to remove the growth from her eyelid, which had also spread onto the white of her eye.
Shirley-Ann says: 'Elaine's surgery was a very nerve-wracking time for me as I was fully aware of all the potential risks she was facing, including the real possibility she could have lost her eye.
'I was very careful to give her the same advice and information that I would for any of my patients and not worry her. But behind the scenes, I was terrified.
'During surgery, the lesion was removed successfully. This involved removing thin layers of white of Elaine's eye by carefully shaving them away – like peeling layers of an onion.
'A couple of days later she was given the green light to go ahead with reconstructive surgery and thankfully, she didn't lose her eyelid.
'Skin from the upper eyelid was used to reconstruct the lower eyelid and cells from a donated placenta were applied to the area to aid healing.'
Elaine was given a combination of antibiotic eye drops and steroid eye drops during the recovery process and visited Gartnaval for regular check-ups.
She admitted that she hadn't fully appreciated the danger she had been in until her treatment was complete.
She explains: 'It was only after my surgery I fully appreciated just how serious my diagnosis could have been and I'm so thankful to Shirley-Ann for pushing me to make an appointment with her.
'The doctor said that they usually don't see cases of this type of cancer until much further along the line when it becomes more visible on the eye. This is usually the point people realise there is a problem.
'This cancer can be aggressive and there was a possibility it could have spread through my eye socket into my brain.
'Shirley-Ann's quick referral means I've been given the all clear and don't have much scarring at all aside from a red margin around the area of my eyelid that was removed, some missing eyelashes and a slight tightness in my eyelid.'
In April 2018, around a year since Elaine first suffered symptoms, she embarked on a fundraising mission to complete 14 miles of the West Highland Way with Shirley-Ann and five others. The group raised more than £1,400 for the Ocular Oncology Unit at Gartnaval Hospital.
Research published by Specsavers and charity the Royal National Institute of Blind People (RNIB), shows one in five people will live with sight loss in their lifetime despite at least half of all cases being avoidable. The statistics also show that 300 people in the UK start living with sight loss every day.
The optometrists at Specsavers East Kilbride can offer eye health services to help manage a number of eye conditions allowing more people to be treated in store rather than having to go to their GP or hospital. Anyone experiencing symptoms such as pain, redness or flashes of light in their vision can access these services.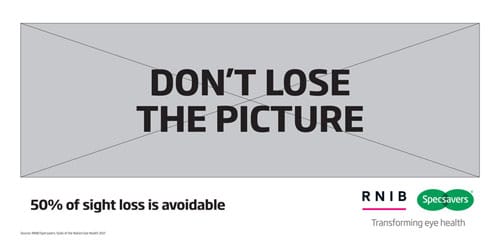 Share, Print or Favourite