Dr Josie Forte, Specsavers Head of Enhanced Optical Services and Partner in Plymouth and Plymstock, has been appointed to the General Optical Council.
One other registrant member, Roshni Samra, and two lay members, Clare Minchington and Mike Galvin, were also appointed to Council at the same time.
A qualified optometrist and doctor of optometry, Josie has experience of working in hospital practice, independent practice and a brief spell practising in New Zealand. She is a lead assessor for the Welsh Optometric Postgraduate Education Centre (WOPEC) and a visiting lecturer at Plymouth University. Her term of office begins on 1 April.
Council sets the GOC's strategic direction and ensures that its statutory functions are delivered effectively and efficiently by holding the executive to account.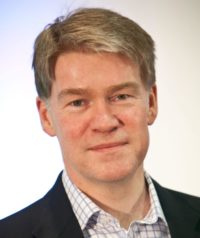 Paul Carroll, Director of Professional Services for Specsavers (left), commented, 'This is a well-deserved appointment for Josie. She is joining the Council at a critical time in the history of the regulator as it is in the history of the optometry profession, facing as it does unprecedented change.'
Paul has himself served on the Council for the past eight years – the maximum term allowed.
Commenting on the new appointments, GOC Chair Gareth Hadley said 'I am delighted to welcome Clare, Mike, Josie and Roshni to Council. They bring with them a wealth of skills and experience of the optical professions, education and working at board level.
'I look forward to working closely with all new members to ensure that the Council's work continues to protect and promote the public's health and safety.'
Josie joins a number of other Specsavers colleagues who already serve on GOC statutory advisory committees:
Standards Committee – Dr Nigel Best, optometrist and partner in Specsavers Darlington and Richmond (N. Yorks), Deirdre Mcaree, dispensing optician and partner in Specsavers Larne, and Marcus Weaver, dispensing optician and lab manager at Specsavers Hessle.
Companies Committee – Doug Perkins, optometrist and joint group CEO, Deidre Mcaree and Josie Forte
Education Committee – Kirsteen Newman, dispensing optician and professional training manager
Share, Print or Favourite