Helen Clarkstone, 69, says she is thankful for the diligence of her optometrist, after an eye test picked up on the early stages of a sight-threatening condition which, without treatment, could have resulted in permanent vision loss.
Helen noticed a dark spot in her vision on a Saturday afternoon.
'It was like there was a black shadow covering half of my eye that didn't go away, even when I blinked. I had a busy weekend, as we were due to leave for holiday on Monday, so didn't do anything about it right away.'
Monday morning came around with no improvement to Helen's vision, but as luck would have it she was due to pick up her husband's hearing aids from the Specsavers store in Arnold, Nottinghamshire so asked if she could have an emergency eye examination, and was seen within twenty minutes by an optometrist.
'Using the technology we have in store, it was clear that something was very wrong with Helen's eyes,' says Vineet Nehra, optometry store director.
'There were indications of a retinal detachment, so we knew Helen needed an emergency referral to hospital. She was made an appointment on the day, ensuring she was seen as soon as possible.'
Helen continues: 'I was very worried – I realised it was serious as I was given a letter from the optometrist to take to the hospital, but the team at Specsavers were very reassuring. I'm so grateful to them for acting so fast to get me seen at the hospital.'

After her referral, Helen underwent an operation at the Queen's Medical centre to help repair the detached retina. Following the operation, she had to spend 10 days lying on her side for 40 minutes of every hour as part of the recovery process.
Helen is recovering well and she says that her vision, despite being a little blurry after the surgery, is getting better each day and her prognosis is good.
Helen says: 'I was due to go on holiday to Spain and if I hadn't been in Specsavers for my husband's hearing aids, I probably would have waited until I got back to check it out. I'm certainly glad I didn't! My husband and I are very grateful for the fantastic care and quick referral of the optometry team.'
Vineet adds: 'Our public health message is that the earlier an optometrist can identify problems and seek correct treatment, the better the outcome. I'd like to encourage anyone experiencing symptoms such as pain, floaters or flashes of light in their vision to access our walk-in eye health clinics'.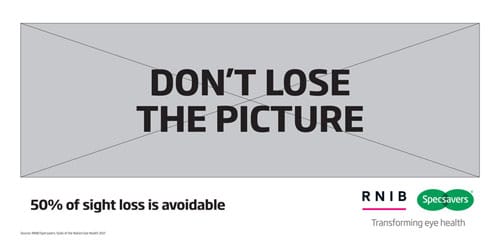 Share, Print or Favourite