A glaucoma practical paid off after exam candidates spotted the warning signs of angle-closure glaucoma in one of their Specsavers colleagues.
Sharon Margery (above, left) had recently joined Specsavers Milton Keynes as an optical assistant and volunteered to sit as a patient during a WOPEC (Wales Optometry Postgraduate Education Centre) Glaucoma Level 2 assessment being held at the store.
Over the course of the evening, a number of candidates and WOPEC examiners checked Sharon's anterior chamber angles, and all found both eyes to be Van Herick Grade 2, which is classed as narrow. As a result, Milton Keynes optometrist partner Rajesh Shah recommended she have a full eye test so a thorough assessment could be made.
I'm so lucky that I changed jobs and moved into optics
Sharon (44) – who previously hadn't had an eye test for 10 years – was seen by colleague and senior optometrist Natasha Dodia-Shah who, along with the Van Herick reading, noted asymmetric intro-ocular pressures. Sharon also confirmed she suffered from apparent migraines in which her right eye would be painful, and had been seen by the eye hospital six years earlier following a blunt trauma to the same eye.
Suspecting that Sharon's symptoms might be a result of the anterior chamber angle temporarily closing, Natasha wrote an urgent referral to Milton Keynes Hospital for the ophthalmology unit to triage.
Sharon was examined two days later using gonioscopy, and within two weeks received bilateral laser iridotomies to reduce the risk of angle-closure glaucoma. She is now back at work, but still under hospital review, and has noticed a massive improvement in the frequency of her headaches.
She says: 'I can't believe that there were barely any symptoms and I'm so lucky that I changed jobs moving into optics, otherwise I probably still wouldn't have realised that anything was wrong with me today. It's made me realise just how important regular eye examinations are, and I hate to think what could have happened if I hadn't had a test.'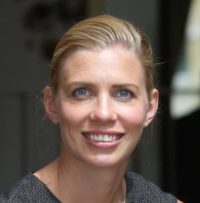 Hayley Moore, one of Specsavers' Heads of Enhanced Optical Services, was the lead assessor at the Milton Keynes OSCE where Sharon volunteered.
She says: 'As part of our nationwide focus on enhanced services, we have been running glaucoma training workshops around the country to prepare all our optometrists for WOPEC Level 2 accreditation or equivalent.
'This particular case shows the value of that training. Angle-closure glaucoma is a true ocular emergency that is preventable by carrying out the enhanced measurements we were assessing, and recognising when referral is warranted. Some people have very minor symptoms, if any, before developing a full blown attack, so I'm glad for Sharon's sake she came under the care of the Milton Keynes optometry team when she did.
Specsavers has been working in partnership with RNIB (Royal National Institute for Blind People) and the International Glaucoma Association (IGA) to raise awareness of the important of eye tests in detecting conditions, like glaucoma, that can cause preventable sight loss.
Its glaucoma accreditation programme is designed to upskill its optometrists, reinforcing their skills in detecting glaucoma and monitoring the signs of its progression.
Share, Print or Favourite