With opticians in England, Wales and Northern Ireland now allowed to offer a full range of services, including routine eye testing, people are being urged to prioritise their eye health this Glaucoma Awareness Week (29 June – 5 July).
Certain groups have a greater risk of developing glaucoma. Karen Osborn, Chief Executive of Glaucoma UK, says: 'There are several factors which could make you more at risk of developing glaucoma, such as family history of the disease. Those who have black–African heritage or who have higher levels of short sightedness are also more at risk. Your age also plays a big part, with two in every 100 people over 40 being affected by the condition.
'These groups are critical for us to reach with our message during this awareness week and we encourage those who missed an appointment during lockdown to make booking a new one a top priority.'
Giles Edmonds, clinical spokesperson for Specsavers says: 'Fifty per cent of sight loss conditions are avoidable with early detection but as the Royal College of Ophthalmologists warned today , delays caused by the pandemic means many individuals have not had access to these diagnostic tests. It is estimated that an extra 1,000 people will have gone blind during the last few weeks, yet their vision could have been saved if they had received earlier treatment.
'Like many others in the optical sector, we have remained open during lockdown to provide essential and urgent care. But being unable to perform routine eye tests has meant that some people – particularly our older customers who were self-isolating – could be living with serious conditions that could have been identified if we had been able to see them.
'Our own data on hospital referrals shows that in England, compared with the same 10-week period last year, we have referred 80,000 fewer patients to a specialist for further care. What concerns me clinically is that most people who would have been referred before would not have presented any noticeable symptoms, and one of these conditions is the early stages of glaucoma. We hope that this key optical awareness week will prompt people to put their eye health top of the agenda now lockdown has eased.'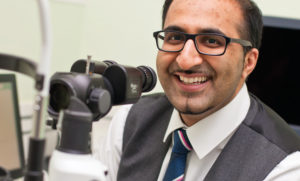 Satvinder Soomal, optometrist and director of Specsavers in Daventry adds: 'Having provided urgent and essential eyecare over the past three months, it became very clear that all those patients who were under our care for either family history of glaucoma or incidental findings on routine sight tests were not being seen.
'I am so glad we invested in OCT and the latest retinal photography two years ago as we are able to quantitatively measure the retinal layers and find conditions such as glaucoma sooner. Being able to compare previous scans on follow up visits is so important, as is working closer with our local eye hospital department to ensure patients are managed and referred appropriately.
'I urge everyone to find out if their family history includes glaucoma. If you've not had an eye examination in two years do contact your optometrist – a lot of questions can be answered over the phone or we have remote care video systems in place. If people do book an appointment and come into store – we have strict hygiene measures and medical grade personal protective equipment in place for everyone's safety.'
More like this...
Sign up to Spectrum for free CET and clinical updates.
REGISTER
Share, Print or Favourite