A 25-year-old drama teacher is sharing her story after a routine eye test helped to reveal a benign tumour in her neck and in turn saved her vocal chords.
Sarah Hope, from Failsworth, is hoping to help raise awareness of the importance of regular eye tests after discovering the serious underlying condition despite having only experienced headaches.
After suffering with uncomfortable headaches for a few days in June last year, Sarah assumed that they might be the result of some eye sight problems and booked an appointment at Specsavers in the Arndale Centre in Manchester.
Sarah says: 'I've worn glasses for many years, and so I'd hoped that by calling in for an eye test I would maybe get a new prescription which might help with the headaches.'
However, when her optometrist Mohammed Rizwan began testing Sarah's eyes, he noticed something which gave him cause for concern.
Mohammed says: 'While questioning Sarah at the beginning of her eye examination, she reported that she had been suffering from headaches recently and that's what prompted her to get her eyes examined again.
'Upon carrying out a check of both eyes, I noticed swelling at the back of her eyes, around the optic discs. I immediately referred her to the Manchester Royal Eye Hospital the same day for further assessment.'
Sarah was seen by the hospital the same day, and after her test results came back with suspicious results, she was booked in for a CT scan at A&E a few days later. During this visit, Sarah's scan showed that she had a tumour growing in her neck.
She explains: 'Once the doctors noticed the tumour, I was quickly given another scan which showed that I had a paraganglioma, which is a benign tumour. It's a rare disease, and my doctors said it was likely that it had been developing from a young age. I was told that the tumour was in a very dangerous place, and if I hadn't found it in time I could've lost my vocal chords.
'I'm eternally grateful to Mohammed for referring me as quickly as he did. Since my diagnosis, doctors have told me that many other people have had their headaches dismissed as simply headaches, which has prevented them from having their own cases of paraganglioma detected early, like mine was.'
Due to the fact that Sarah was under the age of 25 when she was diagnosed, she found that she fit the criteria to go to America and undergo a less invasive and more targeted version of radiotherapy called proton therapy for her illness.
Returning to England after her treatment in November, Sarah has since been given the diagnosis that her tumour has stopped growing: 'My prognosis is good, and the signs are showing that my treatment has been a big success. Now we're just going to try and work out whether it was the result of a genetic problem, and I'll have regular tests and check-ups as well.'
Following her treatment, Sarah is more eager than ever to make sure that people know that something as small as a regular eye test can alert them to life-threatening health problems: 'The fact that I simply could have shrugged off my problems as nothing more than simple headaches is quite frightening.
'I'd like to thanks for helping save my voice, as there's a big chance that I wouldn't have found the paraganglioma in time without going for this eye test. I hope that by sharing my story, people will consider getting their eye tested more regularly.'
Mohammed welcomed Sarah in the Manchester Arndale Specsavers store recently. He adds: 'Sarah came to the store to thank me for referring her for her scan as early as I did.
'To know that this simple eye test has helped prevent Sarah from more serious health problems, it's one of the most gratifying things I can experience in my job. I'm overjoyed to see that she's doing well, and I think it's really inspirational that she's sharing her story with others.'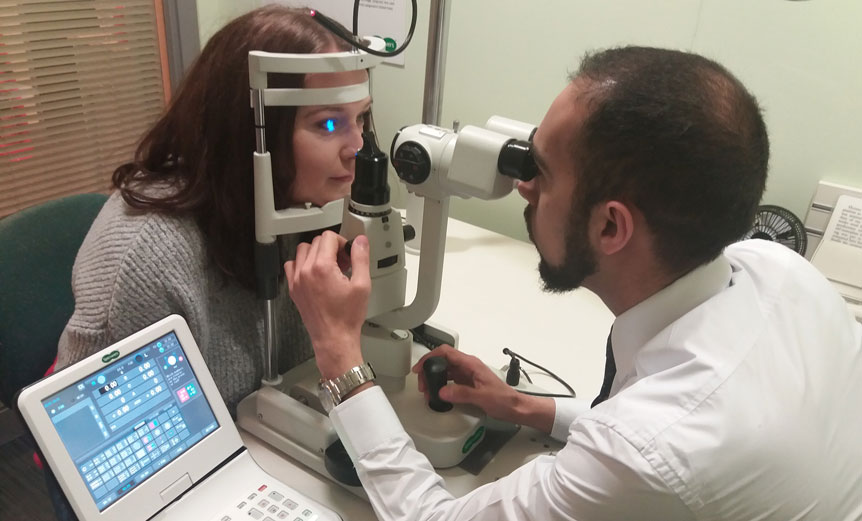 Research published by Specsavers and charity the Royal National Institute of Blind People (RNIB), shows one in five people will live with sight loss in their lifetime despite at least half of all cases being avoidable. The statistics also show that 300 people in the UK start living with sight loss every day.
The optometrists at Specsavers have additional accreditations in minor eye conditions (MECs) and glaucoma and offer an eye health clinic to help manage a number of eye conditions allowing more people to be treated in store rather than having to go to their GP or hospital. Anyone experiencing symptoms such as pain, redness or flashes of light in their vision can access these services.
Share, Print or Favourite