A trip to a Didcot opticians resulted in the diagnosis of a brain tumour for eight-year-old local boy, Winston French.
The youngster had been experiencing headaches and vomiting for a number of weeks so his mum, Felicity French, took him to see a local GP who then suggested making an appointment at an opticians.
Having been a Specsavers customer for a number of years, Mrs French made an appointment at the store in Didcot. In what was his first eye test, Winston was seen by store director and optometrist Rukhsana Bi.
'When I examined the back of Winston's eye I could see that the optic nerve margins were blurred,' says Rukhsana. 'This, coupled with his symptoms, meant I was sure it needed further investigation. Without panicking Mrs French, I explained that he needed to go to hospital.'
Winston was seen in the critical assessment unit at the John Radcliffe Hospital where he had some further tests, including MRI and CT scans. These confirmed that he had a golf ball sized tumour behind his eye and between the two hemispheres of the brain which would require an operation to remove it.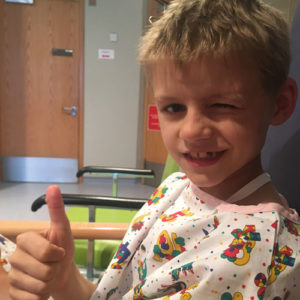 'After the surgery, which removed 95% of the tumour, Winston was in hospital for eight days,' says Mrs French. 'He then had to have courses of radio and chemo therapy to make sure all of the tumour had gone. The radio therapy was every day for six weeks followed by eight rounds of chemo in six-week cycles, which equated to approximating a year and a half of treatments in total. He was absolutely brilliant throughout, never complaining and just getting on with it.'
Thankfully the treatment was a success and Winston, now nine-years-old, has been given the all clear and is back at school.
'I'm so grateful to Rukhsana for picking up the problem,' continues Mrs French. 'I'd always just thought eye tests were about how well you can see, I didn't realise they could do so much more than that. Rukhsana was brilliant, as although I could tell something wasn't right, she was really calm and reassuring.'
'It's great to hear that Winston has made a full recovery,' comments Rukhsana. 'I'm just pleased that we were able to help in confirming his diagnosis so that he could get the right treatment. We recommend children should have a sight test from the age of three and then every two years afterwards. If you notice any changes in your vision though, you could make an appointment immediately.'
Research published by the Royal National Institute of Blind People (RNIB), shows one in five people will live with sight loss in their lifetime despite at least half of all cases being avoidable. The statistics also show that 300 people in the UK start living with sight loss every day.
Share, Print or Favourite