The parents of a Wolverhampton toddler who was diagnosed with a rare form of cancer spotted by their local optician, are sharing his story to encourage others to take their youngsters for regular eye tests.
When James Rushton spotted an unusual white reflection in the pupil of his two-year-old son, Oliver's eye, he asked the team at his local Specsavers in Wolverhampton to take a closer look.
'I was already booked to go in for contact lens check so asked my optician if it would be possible to look at Oliver's eyes at the same time,' says James. 'We arrived a little early and when the optometrist examined Oliver, they immediately flagged that something wasn't right and made a referral to Wolverhampton's New Cross Hospital the same day.'
After additional tests, Oliver was asked to return the following day and it was at this appointment that his case was referred to Birmingham Children's Hospital.
'When we went to Birmingham Children's Hospital and the doctors started discussing something called retinoblastoma,' continues James. 'We had no idea what this was at the time as we'd never heard of it. It was explained that it's a rare type of eye cancer that can affect young children, usually under the age of five. One of the most common symptoms is the strange white reflection I noticed in Oliver's pupil.'
That same week Oliver was put under general anaesthetic to enable further tests and closer examination at which point the diagnosis was confirmed. Oliver's retinoblastoma was unfortunately, very advanced, and his parents were faced with a heart-breaking decision; Oliver could undergo chemotherapy which had a 30 per cent chance of saving his eye, but tragically not his sight, or the eye could be removed which would also remove the cancer. Bravely, James and his wife Sally opted to have the eye removed.
'It was a hard decision but ultimately we just wanted our little boy to be well again and that meant getting rid of the cancer as quickly as possible,' continues James. 'It also seemed like a lot to put a small child through chemotherapy when there was only a 30 per cent chance of saving his eye.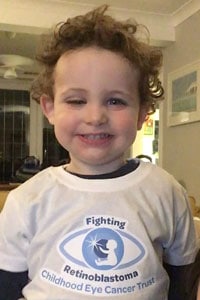 'A few days later Oliver had the enucleation procedure to remove his eye.'
Following a couple of days of recuperation, Oliver was soon back to his cheeky-self and back on his feet.
'We can't speak highly enough of the care Oliver received at Birmingham Children's Hospital,' adds James.
'We realised how close we had come to losing our son, it's absolutely terrifying to face the possibility of losing a child. We're so grateful to the staff at the hospital and at Specsavers for their part in helping Oliver,' concludes James.
From here, while on the road to recovery, Oliver must attend follow-up appointments every six weeks, for the next six months and will have a prosthetic eye fitted at Wolverhampton New Cross Hospital.
Pardip Kaur, the optometrist at Specsavers who spotted the abnormality in Oliver's eye said: 'Oliver is quite an incredible little boy who seems to be taking everything in his stride. His case really highlights the importance of regular eye tests for children from an early age but also of getting any changes in their eyes or sight checked as soon as possible. We are glad to hear that he is doing well and getting better.'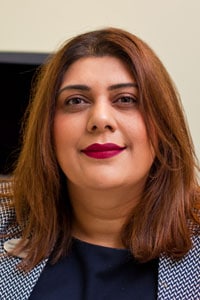 Store director, Hardip Bahia (pictured left) added: 'We were so touched by Oliver's story that we have chosen the Childhood Eye Cancer Trust (CHECT) as our nominated charity for the coming year. According to CHECT, around one child a week is diagnosed with retinoblastoma. The work CHECT does to raise awareness and help the families of those affected is really important and a cause we're proud to support.'
More information on retinoblastoma
Oliver, James and Sally's JustGiving page
Share, Print or Favourite