An opticians store in Enfield has become the 500th store accredited as a Platinum Employer. To celebrate this key milestone, the Deputy Mayor of Enfield, Councillor Kate Anolue (pictured below) paid a visit to Specsavers on 31 May to present store directors Alan Phillips and Mark Anderson and their team of 56 with their Platinum Employer award.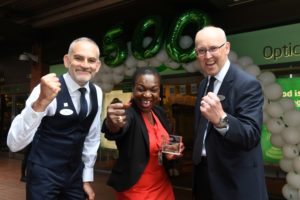 The Platinum Employer scheme – designed and validated by employee engagement specialist Korn Ferry Hay Group – supports Specsavers joint venture partners to create a great employee experience and recruit and retain high-calibre employees.
Stores are assessed in five key people management areas: recruitment, induction, performance management, reward, and learning and development.
Dawn McIntyre, HR Director for UK/ROI Specsavers, says: 'Having 500 stores accredited as Platinum Employers means Specsavers can ensure we recruit the best people to work in our stores and that colleagues are happy, rewarded well and have focused career development plans. The scheme is designed to give each Specsavers store owner guidelines and support to achieve best practice employee engagement, which we have found is critical to business success and retention. It means we can be confident to really shout about what a great place we work in, and help us to tap into the best people in the market place'.
Alan Phillips, optometrist director, says: 'For us in Enfield, the Platinum Employer process has delivered noticeable differences in team communication and engagement. The overall benefit is that colleagues feel more valued and motivated. They realise that their career is taken seriously here and that each role is important. The process has made us closer too, as everyone  has similar conversations about their personal development whether it is frame merchandising, dispensing, in the lab or in the test room. They know that as directors we are committed to continually developing our colleagues, offering specialist clinical and retail training and nurturing them as they grow in their roles.'
Specsavers co-founder, Dame Mary Perkins says: 'It's our colleagues who ensure that customers come back to us time and time again. It's our colleagues who, with the correct training and development through Platinum Employer, can deliver this great customer service, talk knowledgeably about our products and services and best practice in healthcare and who help us to grow our business.'
Enfield director Mark Anderson adds: 'The team are proud that we have all have worked hard to get Platinum status over the last year and are proud to work for Specsavers, and that comes across to the customers.'
Share, Print or Favourite