Cricket legend Andrew 'Freddie' Flintoff officially opened Specsavers' 800th UK and Irish store in the Sainsbury's Superstore in Preston, Deepdale today.
14 stores in Sainsbury's by end of March 2018
The cricketer turned broadcaster cut the ribbon at the store on Flintoff Way alongside Specsavers co-founder Dame Mary Perkins and store partners Chris Shore and Sean Buckley.
Dame Mary said: 'When we opened our first Specsavers store in Bristol in 1984 it was impossible to imagine that we would one day be opening our 800th store; it is an amazing milestone.
'The Deepdale store is the fifth we have opened in a Sainsbury's since August last year. We are delighted with the success of this collaboration with Sainsbury's and have agreed to open a further nine locations in Sainsbury's before the end of March next year.'
A Sainsbury's spokesperson said: 'Sainsbury's has been a part of the local community for a number of years and we are really thrilled to welcome Specsavers and its team to our store.
Nine more Specsavers will open in a Sainsbury's store between now and the end of March 2018 in White Rose Shopping Centre (Leeds), Stevenage, Dunstable, Torquay, Barnstable, Braehead, Wheedon Road (Northampton), Calcott (Reading) and Charlton Riverside.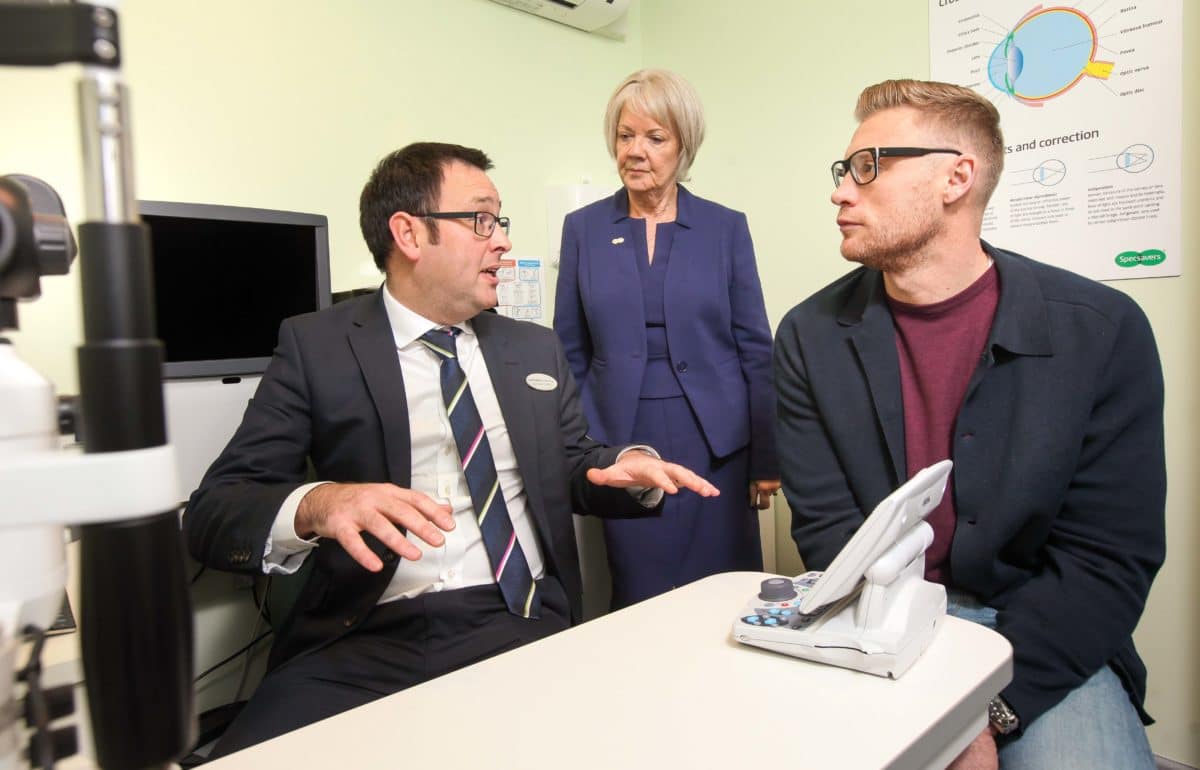 Andrew spent a couple of hours in the store, meeting customers, store colleagues and local people. He spent time in the test room learning more about OCT from ophthalmic director Sean Buckley and about audiology from audiologist Brian Walburg. He also took the opportunity to have an eye test and chose two pairs of glasses afterwards.
He said: 'One of the first lessons they teach you in cricket, football or any sport as a kid is to "keep your eye on the ball" but so many of us take our sight for granted.
'To see how far eye and audiology healthcare has developed since Specsavers opened its first store is incredible. I've heard how nearly half of all sight loss is preventable* so I'm fully behind Specsavers.'
Andrew also tried out the Eye Pod, an interactive sight loss simulator which demonstrates how the four main eye conditions (age-related macular degeneration, glaucoma, diabetic retinopathy and cataracts) can affect sight. The trailer has two cameras on top of the pod which link to screens inside where the public can view their surroundings with symptoms of each condition. In each case the experience lasts around one minute, with key facts and statistics about the condition then appearing on the screen.
The Eye Pod has been on tour around the UK as part of the Transforming eye health campaign.
As well as being local to Preston, Andrew has previously modelled Specsavers glasses.
In addition to this new store, ophthalmic director Sean Buckley and retail director Chris Shore also own and run another Specsavers store in Preston as part of a joint venture partnership.
Chris says: 'We are really proud of the new store and we enjoyed being able to celebrate with our staff and customers and, of course, local legend Freddie Flintoff. As well as offering the latest in optical technology, including OCT and digital dispensing tools, I've no doubt that the store's location in Sainsbury's will provide a convenient option for local families and commuters.'
*Access Economics, 2009. Future sight loss UK: The economic impact of partial sight and blindness in the UK adult population. UK: RNIB
Other locations include:
Sainsbury's Plymouth – Marsh Mills
Sainsbury's Hampton, nr Twickenham
Sainsbury's Hardwick, Kings Lynn
Sainsbury's, Tewkesbury Road, Cheltenham
Specsavers Tamworth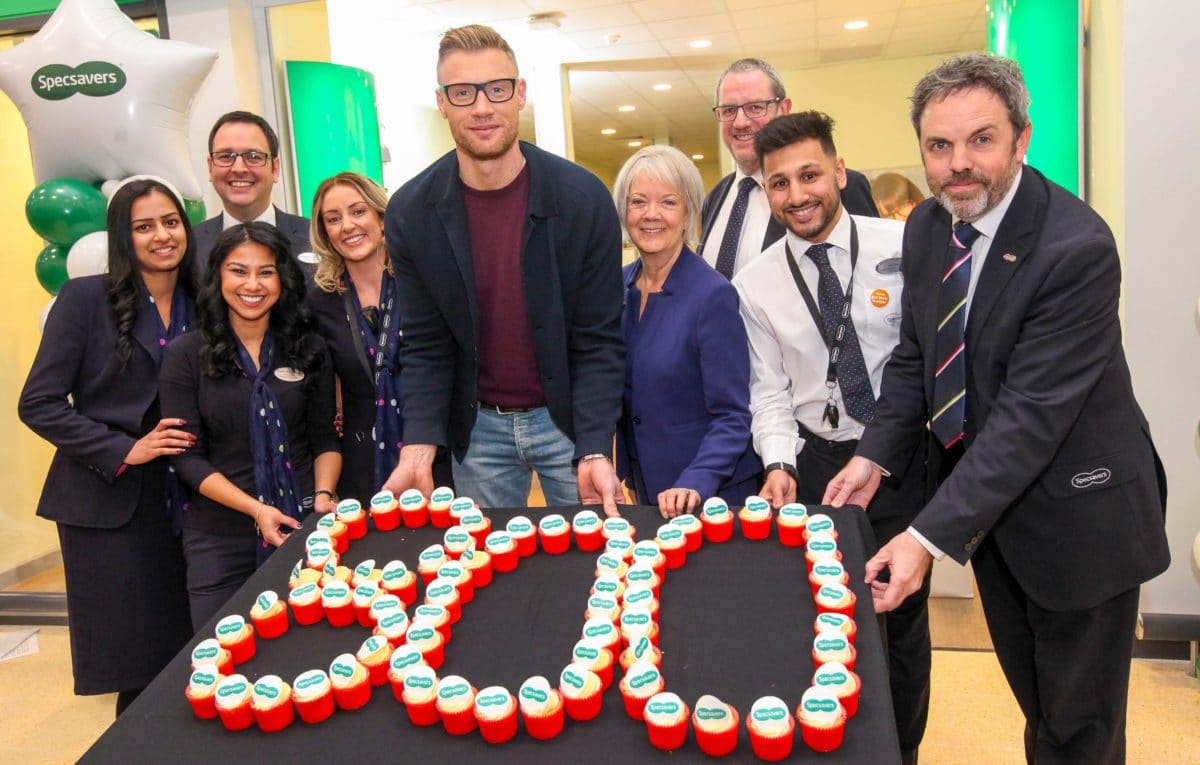 Specsavers 800th store with cakes.
From left to right: Kushi Sinh, optical assistant, Sumita Mistry, optician, Sean Buckley, director, Becki Wilson, senior dispenser, Andrew Flintoff, Dame Mary, Chris Shore, Sutinder Basi, student dispensing optician, Brian Walburg, audiologist
Share, Print or Favourite