No two days are the same for optometrist Sanjiv Koasha, who says he loves to bring eye care to those who have difficulty leaving their homes.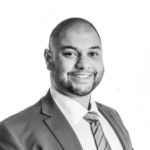 After six years working in a Midlands high street practice, optometrist Sanjiv Koasha decided he wanted a change of pace and went into domiciliary eye care testing the eyes of people who would struggle to get to a high street opticians in their own homes. Sanjiv works alongside an optical assistant, visiting people who are either housebound or in care homes. hospitals or hospices, to test their eyes and supply them with glasses.
He usually sees around seven people from around 9am each morning, but every day is different. "There is no such thing as a typical patient but most of the people we see are over 80. We see a lot of people who are in a wheelchair or bedbound, but we also see people who are young and fit but are suffering from mental health issues, said Sanjiv.
When visiting a customer the first thing that the team will do is put them at ease by reassuring them of who they are and why they are there. Sanjiv will conduct a thorough eye test and the optical assistant will help the customer choose some suitable glasses, if required.
"They are really appreciative when you help them to see better." "We can test the patients in their normal chair so there is no need to move around for different parts of the test as there is in a store environment. We also bring the glasses to the patient and give them extra guidance to select something suitable.
A passion for caring
Sanjiv says his job is very rewarding because he can make a difference to the lives of vulnerable people and those who are unable to access our stores. 'we see people who have not had their eyes tested for years because they did not know the home-visit service existed. They are really appreciative when you help them to see better. When someone starts to lose their vision and can't read or see the subtitles on the TV, it can have a huge impact on their life.
More articles on domiciliary eyecare…
Share, Print or Favourite