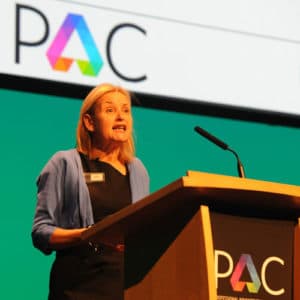 More than 1500 professionals have already booked to attend the industry-leading professional development event of the year – Professional Advancement Conference – on Sunday 21 October at the ICC in Birmingham. Have you got your space yet?
The event, bringing optical clinical teams together under one roof, is a great opportunity to demonstrate collective commitment to our own and our colleagues' professional development. So if you are still deciding whether to come along to the UK's biggest event of its kind, here are a few brilliant reasons to  make the trip…
Lots of interactive CET and competencies – Up to 14 CET points and all competencies for optometrists and dispensing opticians and 13 for contact lens opticians (of which 12 are interactive). Up to 10 points for therapeutic optometrists (of which nine are interactive). Full programme. 

More than 2,000 peer discussion places – Most sessions are interactive peer discussions or discussion workshops, offering 3 CET points per session and plenty of peer review points.

New content – All bar a few sessions are brand new for this PAC so, even if you attended one of the regional MiniPAC events earlier in the year, there'll be something new for you to learn.

Optometry meets ophthalmology – Ophthalmologist colleagues will be joining most of the optometry workshops to offer their perspective on discussion topics such as cataract and glaucoma, medical retina, posterior MECS and red eye. 

Dedicated to dispensing – Full-day programmes for DOs and CLOs, including 'Getting started with OCT' for DOs, and managing red eye and managing dry eye sessions for CLOs. Plus the launch of a new career development workshop for DOs, and bespoke sessions for trainee dispensing opticians.

Focus on OCT – Get hands-on with OCT and quiz suppliers Heidelberg and Birmingham Optical Group in  all-day drop-in sessions, plus brand new case-based discussion workshops for optometrists and DOs.

Get to grips with EOS – Lots of sessions which are directly applicable to the delivery of enhanced optical services (EOS), including some specifically for dispensing opticians.

Industry expertise – 25 exhibition stands from contact lens and product suppliers; industry and educational bodies; and Specsavers support teams. 

Multidisciplinary session –  In a first for PAC, optics and audiology colleagues will join for a discussion workshop looking at consent and clinical cases involving both hearing and sight loss.

Win up to £300 in Amazon vouchers – Leave your details at an exhibition stand and be in with a chance of winning.
Share, Print or Favourite